It's that time of year when it's time to share wallpaper images again to ease winter withdrawal. For the first time, it wasn't the cold that chased me off the island, but low water. When the taps began pouring mud, it became clear (pun intended) that it was time to go. Despite having dug a hole to deepen the intake in the harbor in anticipation of low water, it still dropped too low with every wave sliding more muck down the hole. This was a battle I was not going to win.
For those who weren't on the River to see what fall produced, these were the lowest levels anyone I know has ever seen. Shoals appeared where none had been before and one dawn I awoke to not only my first glimpse of one just off the island, but a bald eagle standing sentry on it! I posted that image on One in a Thousand's Facebook page if you're curious.  Regardless, whether it's the cold or low water that forces me off the island, it always becomes easy to leave when it's hard to stay.
Last season, these wallpapers moved away from the traditional contest of identifying locations to sharing shots of places more easily recognized. This winter I'll shake it up with a few of each. I'll start the contest again using this image, which is worth a set of six 8x10 prints for the best caption which explains where it was taken while also sharing a story or any interesting lore you may know about this part of the River.
Please forgive me for mentioning Christmas this early, but every year it seems everyone wakes up only when December arrives and it gets chancy for book and print gift orders being shipped from Canada to get there in time. It's not a big problem for Volume II and Volume V which are shipped from the US, but for the few remaining copies of Volume I, Volume III and giclée prints which have to be shipped from Canada, cross border mail is notoriously slow despite Canada Post charging a fortune.
I'll also take the liberty of mentioning Donna Walsh Inglehart's (the co-author of our iPad App One in a Thousand), acclaimed historical novel, Grindstone. It was this book which allowed me to discover her prodigious talent, ultimately becoming the catalyst for our collaboration. If you'd like a mesmerizing understanding about what this place was like just seven years before the Gilded Age began, start reading.
The wallpapers are available in wide screen and standard formats. Standard also services the iPad, the only platform on which One in a Thousand can be viewed.
Enjoy!
Ian Coristine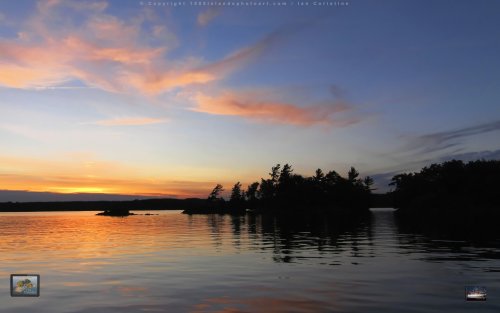 Comments
Your photos of the St. Lawrence River and the 1000 Islands are the best I've ever seen. I have done a little research and found out why the chimney is on what's called Chimney Island. The island's real name was Isle Royale, it was the home to the last French fort "The Levis" of the French Indian war of 1760. I found this info as I am doing a story on the ferry services that ran between Prescott and Ogdensburg, and between Brockville and Jonstown. The ferry Levis was named after that fort.
William J. Elliott posted on: Thursday, November 01, 2012
---
Location doesn't matter it's all paradise. Love the islands and can't wait to get back in the spring.
Eileen Rice posted on: Thursday, November 01, 2012
---
We spent several years living summers at a seasonal cottage on the river. October was so depressing having to close up for the winter and go back to "real life." This year we made the big move to a year-round home on Wellesley Island. The 45 minute commute to work isn't exactly enjoyable, but sitting down on the couch in my living room and facing the river in November makes it worth it!
Melissa posted on: Thursday, November 01, 2012
---
Boy, this sure looks the view from the cruiser dock at Waterson State Park. If it is, let me tell you a story about what happened to my father and me here one fall day. We were up to Wellesley Is. for a late fishing trip. We had a very thick morning fog that completely blanketed the river. Overhead the blue sky promised the fog would not stay long. Having left the cove where the marina is many times I was confident on making the short run to the Middle Channel and heading down river. Once we got out a few hundred yards and barely making way I was still confident I knew where the buoy was. As more and more time passed, I had a feeling we should have come to the channel by now. We were going very, very slow, dad on the bow straining to see a recognizable feature he shouted "weeds." "Impossible," I said for I knew the channel was way too deep for weeds. Sure enough - weeds. Suddenly we could make out a shoreline and then a big sign -- Waterson State Park! We had made a big right hand turn, missed all the rocks and islands and came right to the sign. Keep in mind this was before GPS. Oh well, a most humbling experience.
Ken herring posted on: Friday, November 02, 2012
---
Ken, that was my immediate thought also. Will be surprised to learn otherwise. Good story about your Waterson Pt SP experience! I heard a lady tell me the time she saw a bear come ashore there.
John Krake posted on: Saturday, November 03, 2012
---
Sunsets at the cruiser dock at Waterson are the best!
Libby Jewsbury posted on: Saturday, November 03, 2012
---
Isn't in Lake Fleet. Long low 'background' (land) not from around here. Glad to get one of your mysteries again, Ian. Considered wintering over in our (to be refurbished) ice house. Too much to do, cost, was what heaped up against it (also, my/our great pal, Jim Cote). Maybe another year.
Jack Patterson posted on: Sunday, November 04, 2012
---