Ian Coristine was not a typical photographer accepting random assignments. Only two subjects motivated him to get behind his camera - The 1000 Islands, and more recently, Provence, France where he and his wife Lyne owned a small home for over 6 years. His discovery and love affair with "the River" began during a random flight in 1992. Three years later he found an island, literally one in a thousand, with a unique natural harbor that could protect his plane from marauding storms. During his former career distributing Challenger ultralight aircraft across Canada, Ian learned the craft of air-to-air photography. Living "in the assignment" with his float plane providing a privileged view of an extraordinary place, he began shooting low from above.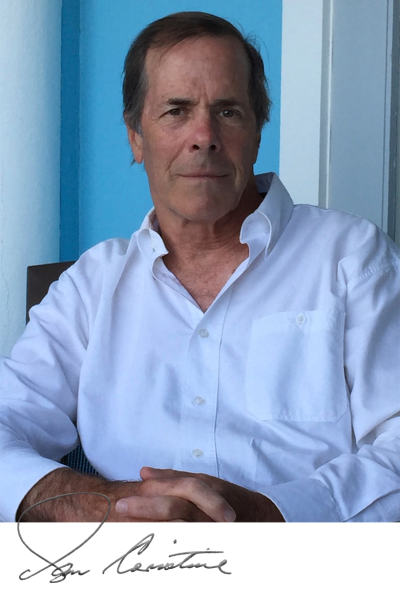 Coristine's first book of photography, The 1000 Islands, was an astonishing success, selling out three large printings and becoming by far the most successful book about the place ever published. It is now a sought-after collectible. Water, Wind and Sky was released in 2005, followed by Volume III, The Thousand Islands, in 2006. A booklet, 1000 Islands, was published in 2007, winning an international Benjamin Franklin (Benny) Award in the graphic arts industry's most prestigious worldwide printing competition. His fifth book was released in 2010, The very best of Ian Coristine's 1000 Islands, becoming his fifth bestseller and his second to receive a Benjamin Franklin Award.
Ian Coristine's sixth book, a memoir published as an interactive iPad eBook, was titled One in a Thousand. Reminiscent of The Olive Farm-, -A Year in Provence and Under the Tuscan Sun, it was co-written with Donna Walsh Inglehart (Grindstone, Breaking the Ring). This groundbreaking eBook was produced by Toronto's McLellan Interactive Publishing. Garnering 5-star ratings in Apple's iPad App Store, it received further high praise from many reviewers, including Kirkus Reviews who bill themselves as "The World's Toughest Book Critics."
One was selected from over 6,000 entries submitted from around the world to receive the 2012 MarCom Award: "Every once in a while an entry comes across the judging table that totally enthralls us. We quickly forget where we are and what we are doing. We become spectators, not judges. Such was the case with an eBook app called One in a Thousand." The eBook showcased an entirely new form of storytelling, using over 450 images, 11 videos, audio, an interactive map and slideshows with 18 moody instrumental tracks from the award winning band, Great Lake Swimmers. Very unfortunately, Apple later changed their iOS software from 32 to 64 bit technology, making the App unusable. McLellan Group had disbanded, so sadly, One is no longer available. Nevertheless, it remains one of his proudest achievements.
Five years and 20,000 images following Volume V's release, Ian Coristine's 1000 Islands (Volume VII) was released, becoming his 6th bestseller. It includes a detailed 1000 Islands map in the book's end sheets locating each of the photo locations. As with his earlier books, the map was also published in accordian-fold pocket and laminated wall mount versions. All told, his six books in print have now sold out - over 120,000 copies within the 30-mile 1000 Islands corridor, although a small quantity of each book has been retained to service this website.
Coristine's images have been featured in magazines around the world as well as in many other books about the region, including Parks Canada's 125th anniversary tribute, Canada's National Parks, A Celebration. His work has been widely credited with positively impacting area tourism and has been presented in several one-man exhibitions, at the Brockville Arts Centre in Ontario, and in New York at the Antique Boat Museum in Clayton, the Everson Museum of Art in Syracuse, and the Richard F. Brush Art Gallery in Canton.
DxO Labs of Paris, France, award winning publishers of revolutionary camera and lens correction software, selected Coristine from professionals around the world as one of their founding "Image Masters."
He unfortunately passed away peacefully on February 15th 2020 surrounded by his family at home in Brockville, after a brief but intense battle with pancreatic and liver cancer. Ian died as he lived; on his own terms with an unwavering appreciation of all that life has to offer.
Some limited editions of his books are still available to purchase on line through this site as well as prints/canvas of his beautiful photography.
The 1000 Islands will forever live through his stunning imagery.