This month's posting shares more about a major project that has been in the works for eight years and is now very close to launching. Last month's photo hints of it, a place very close to my heart - Raleigh Island.

When I first saw it in 1994, I was chasing a dream I couldn't possibly afford, but figured the dreaming part costs nothing. After many years of paying off the debt accumulated while pursuing a racing career, I was by then running a Montreal based business, distributing Challenger ultralight aircraft across Canada. There wasn't a chance I could abandon it to adopt a life of summers on an island, not least because there was no possibility of keeping my plane out on the river where the next storm would surely claim it.

Then the boat rounded the foot of the island. To my astonishment, I saw a long, narrow entrance into a protected cove so tight that it took a tape measure to confirm the plane would pass, wings overlapping the sides. Incredibly, it further offered a gentle slope at the end providing the possibility of taxiing onto dry land to tie down, sheltered from prevailing winds behind the perfectly placed cottage. Cottage is an exaggeration. This one was almost a century old, abandoned for some time.

I realized in an instant that this island really was a dream, quite literally one in a thousand. Offered for sale just once in the past century, it had my name on it since the earth began cooling. Sheer good fortune brought me there at precisely that moment. I had no clue how to make this happen, but knew that it must. My life changed that day and I am forever grateful that it did.

I've had the rare privilege of living a dream. I had read about others living their dreams in classic books like A Year in Provence, Under the Tuscan Sun and my favorite, The Olive Farm. It was this last book, by Carol Drinkwater, an actress best known as James Herriot's wife in the BBC's TV series All Creatures Great and Small which made me realize I must also share my story.

She had fallen hopelessly in love with a hovel on a hillside in Provence. The story shares the struggles with her future husband as they desperately tried to make their impossible dream come true.

This book has been in the works for eight years, but it was only when I met Donna Walsh Inglehart that it began to take serious form. She approached me looking for a photograph for the cover of her novel Grindstone, and I immediately discovered in her pages that she was a deeply gifted writer.

She saw potential in my story and to my great good fortune agreed to become my co-author. Two years were spent passing drafts back and forth until there wasn't a single character we wished to change.

The problem now became producing the book the way I envisioned. There was so much more than words to share; images, video and through the band Great Lake Swimmers, beautiful instrumental versions of songs they had recorded on the river for their last album, Lost Channels. There were also river sounds, an interactive map and more.

But the software hadn't been invented to service all of this. Then, briefly, a perfect solution materialized, then vanished. A team of former Apple software programmers had created revolutionary publishing software they planned to offer to the world. They used it to publish a showpiece book for Al Gore, Our Choice. Unfortunately, it was so impressive, Mark Zuckerberg promptly bought the company, ending that initiative and folding their technology into Facebook.

Discussions with app developers around the world led nowhere. Then, serendipitously, through Susie Smith's Christmas issue of TI Life, I stumbled across Doug McLellan whose fabulous starry night photograph she had featured. He and his wife Caroline Yung were the owners of an island in the Lake Fleet Group.

They also owned a company which has specialized in "storytelling" for a quarter of a century. With their amazing team of creative tech whizzes, they had been looking for just the right project to showcase their skills at the cutting edge of the digital book revolution. They also wished to create something significant for the community who share their passion for the River.

The result is One in a Thousand. It will be available on Apple's iPad App Store on May 1st, 2012. It will require an iPad (which if you don't have one, you will love).
I don't say this lightly, but thanks to Donna Walsh Inglehart's extraordinary talent, the amazing skills of McLellan Interactive Publishing, wonderful instrumental music from Great Lake Swimmers and all the media we are able to include, I believe this is a book of which you will approve. I have always strived for exceptional quality coupled with attractive pricing. It's called value. You will be amazed when you see all that One in a Thousand includes and shocked by its price.
I'll conclude the winter wallpaper season with this view of Raleigh Island, the image used on the "cover" of One in a Thousand. This version is static with the text screened down. The actual cover is somewhat different, alive. The only way to understand will be to see it on the iPad.
Enjoy!

Ian Coristine
P.S. There are several ways to learn more about One in a Thousand:
The McLellan Group's announcement.
The One in a Thousand web site.
Also please note that it's a big month! Great Lake Swimmers are releasing their truly outstanding (trust me) new album New Wild Everywhere on April 3rd. Get it on iTunes and check out the Swimmers' web site for concert dates in your area.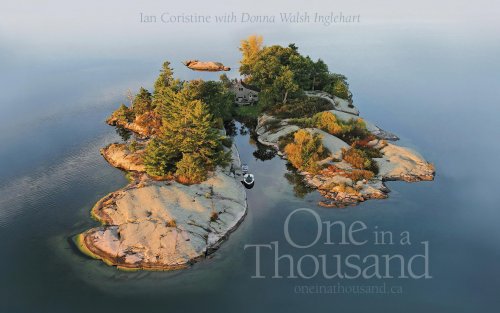 Comments
Good for you Ian! Life is only worthwhile if you live your dream - whatever that may be! Web based publishing is certainly the future and should allow more to be creative. We have both been blessed by being allowed to follow our dreams and make them reality. I had a similar epithany in the fall of 2006. That view is now our front yard on Singleton Lake. I look forward to reading of your dream - after I buy Linda the Librarian an IPAD. Keep smiling my Friend!
posted on: Sunday, April 01, 2012
---
Congrats Ian. I look for to May 1.
Cliff Sifton, Aurora and Sifton Point, ON posted on: Sunday, April 01, 2012
---
Congratulations and all the best for success in this truly amazing endeavour!!! Can't wait!!!
Lynn Pascia posted on: Sunday, April 01, 2012
---
Oh dear, I have been 'dancing around' the idea of buying an iPad for some months...Ian you just may have given me the excuse I needed...an important way to continue my quest for learning more and more about the extraordinary Frontenac Arch Biosphere region. This is indeed a beautiful cover photo..the greens and golds are gorgeous in that special light. And since I loved Inglehart's novel Grindstone, I am pretty sure your book will be a very good read. I guess I will finally have to figure out what the heck an 'app' is.
Liz Huff posted on: Sunday, April 01, 2012
---
Greetings from Florida. We have been undecided as to when we should return to the St. Lawrence, but after seeing your latest picture and reading the attached story, we have decided to head home in three days. Thanks for reminding us how beautiful our place in Canada can be. Keep the photos coming.
posted on: Sunday, April 01, 2012
---
Unbelievably wonderful Ian, I too must get an iPad.
Phyllis Gardner, Clayton, NY posted on: Sunday, April 01, 2012
---
What goosebumps and they will continue until the app is reality for all of us. It is so close to time to be up there for another glorious summer, i am breathless!!!!Thanks Ian for keeping our hearts pumped, and souls primed.
Susan Saiter, Dallas, Texas and Manitouana Island posted on: Sunday, April 01, 2012
---
Congratulations to you and Donna on the pending launch of "One In A Thousand." The series of happy coincidences that brought it to fruition also makes a good story. We have a couple of iPads in the family and they will be visiting early in May. There should be a "spike" in iPad sales about then. The fortunes of Ted Rogers come to mind. In the early days of commercial radio, he broadcast an FM signal (CHFI) when only 5% of the receivers in Toronto could tune in. May your success emulate his.
Tub and Ruth Anne Tolton, Jones Creek, ON posted on: Sunday, April 01, 2012
---
Thank you for your inspiring story. It seems to be a beautiful example of how living your life with passion, and being true to your dreams, attracts unexpected serendipity into your life. Thank you for honouring The Thousand Islands' region so eloquently. By doing so you continue to remind us all how fortunate we are.
Heather Chitty posted on: Sunday, April 01, 2012
---
How wonderful Ian! Congratulations.
Jack patterson- Axeman Island posted on: Monday, April 02, 2012
---
Ian...........wish you all the best. Not too many people get to live out their dreams and being in the 1000 Islands is certainly the best of dreams.....Congratulations.
jack Cooper, Red Horse Island posted on: Monday, April 02, 2012
---
Thanks for sharing your story of finding the 1000 Islands. Looking forward to reading the book. Congratulations!
Erin Thibault-Morphy posted on: Wednesday, April 18, 2012
---