No cigar identifying last month's image, but Ken Herring, John Krake and Libby Jewsbury's guesses of the view from Waterson State Park's cruiser dock came very close. The partial island on the right is the western tip of Ash Island and this view looks towards Ivy Lea, on the way across from the Rift to the Ivy. Thank you for trying.
It was just one year ago when a 1000 Islands image solved an insoluble problem in my life. Susie Smith had canvassed River photographers for images for a Christmas gift to TI Life's readers. Amongst these was an amazing scene which simply blew me away. It was a starry night shot of the River with a panorama of stars overhead. Breathtaking!

I called Susie and asked for the photographer's number. I almost never do that. The last time was when I first heard Great Lake Swimmers performing on a CBC radio show. Both calls led to unexpected and amazing collaborations.

It turned out that the photographer was Doug McLellan, an island owner in the Lake Fleet Group and the CEO of an incredibly brilliant "Apple like" creative team, Toronto's McLellan Group, with his wife Caroline, its VP. Doug had been a successful television producer for entities such as CBC, CTV, PBS and National Geographic before founding McLellan Group to tell stories in magical ways for businesses.

As it happens, I had just finished two years of intensive effort with Donna Walsh Inglehart (the gifted author of Grindstone) forging the final draft of One in a Thousand. I had always envisioned that this true story would use media I'd collected along the way to bring it to life in ways not possible before the digital age.

I had a decade's worth of relevant images, HD video from the History Channel (who fortuitously had shot a segment for a show about my TI aerial photography) and thanks to Tony Dekker, amazing instrumental versions of some of the Swimmers' greatest hits. I also had a map, nature sounds and some video of my own that I hoped to incorporate where it would add value and help tell the story.

But there was a major problem. While the platform to present this had been invented (Apple's iPad), the single company intent on producing leading edge software for this purpose had vanished. They had showcased their amazing technology through Al Gore's book, Our Choice. It was so exceptional that Mark Zuckerburg immediately bought the company, closed it down and folded their technology into Facebook. I canvassed App developers around the world, but there were no workable solutions. Nine years after I had begun, this project had hit a dead end.

Then, this serendipitous connection. Doug believes, as I do, that this is the future of publishing. He mentioned that he saw my other books as a 'gift to the community' and explained; "Caroline and I would like to leave our own gift. I think we can help you with this." He set his entire team to work a year ago. One in a Thousand launched in Apple's iPad App Store on May 1st.

If you'll forgive me for saying so, it makes an appropriate and very inexpensive ($8.99) gift for islanders, particularly as it includes as many images as all my other books combined, plus several videos, 18 unpublished instrumental tracks from the Swimmers and quite a bit more. You can get it or gift it (use the drop down arrow beside the buy button), here.

So December's wallpaper was inspired by Doug and stands as a tribute to him, Caroline and their amazing McLellan Group team who accomplished the impossible, turning my unlikely dream into reality.

I must also pay tribute to France's DxO Labs, whose amazing software allows me to get the most out of my images. I was deeply honored in 2006 when this award-winning company asked if I would be one of their founding Image Masters. Their software digitally corrects all the flaws found in cameras and lenses and brings out detail in ways never before possible. This image is a perfect example. If you would like to see the before and after versions of this shot to get a better understanding of DxO's power, click here. If you're serious about photography, put DxO's software on your gift list. You'll also find a short video about One and DxO's importance, here.
Merry Christmas,

Ian Coristine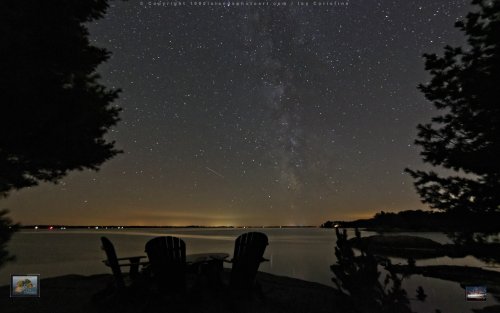 Comments
THE STARS AT NIGHT IS ONE OF THE BEST I'VE SEEN, THANK YOU
WILLIAM ELLIOTT posted on: Saturday, December 01, 2012
---
Stunning. Absolutely stunning.Thanks and Merry Christmas!ddd
Diana Davis Duerkop posted on: Saturday, December 01, 2012
---
Isn't it great to live away from the city lights? The stars want me to paint a Van Gogh sky. I think there is a single jet contrail coming out of Pearson on the lower western horizon. Knowing the jet flies at close to 500 or 600 km/h one could figure out your shutter speed even. I believe this is the view looking southwest from your front yard. The water level is low indeed but I (and my canoe) know those rocks. Merry Christmas my Friend.
posted on: Saturday, December 01, 2012
---
The 'night sky' is something I miss most about The River - Thank you for this beautiful shot!! (and all of your other spectacular photos, too!!)
Georgia Barker posted on: Saturday, December 01, 2012
---
The DxO photo is really exceptional! I wish my own eyes worked as well.
John Street posted on: Saturday, December 01, 2012
---
Takes my breath away. Thank you for sharing your beautiful gift with us. Merry Christmas
Laura Squadrito posted on: Saturday, December 01, 2012
---
Doug has done it again! Merry Christmas to all of our river rat buddies...and wishing you all a Happy and Healthy 2013!!
Lauren Sarti posted on: Saturday, December 01, 2012
---
My wife and I enjoyed "One in a Thousand" very much. Thank you for the Christmas image!Dave and Gail
Dave Powell posted on: Saturday, December 01, 2012
---
Absolutely amazing! Our family has studied that view for 102 years and it is always magical! It draws you into it every time. My cousin Carolyn McCarney said that the reason why we have taken hundreds of photos of it is........... we are trying to capture the smell! So true! Awesome fragrance too! Thank you Ian and Doug et al for sharing! Merry Christmas! The Stevens clan
woodie stevens posted on: Saturday, December 01, 2012
---
Absolutely beautiful!! ...a most precious "Peaceful Pleasure!" Your talent, enthusiasm and love of our River is a gift to us all. Thank you, Ian. I too think it's a view from your island.
posted on: Saturday, December 01, 2012
---
Mr. Coristine, you have my thanks and profound respect for your work and for sharing it with the world. Having lived in the area all my life, the river and its beauty have always affected my life in many wonderful ways. This wondrous starry night though, for me, is the most moving. Again, many thanks and much appreciation for your efforts.
Barbara Countryman posted on: Saturday, December 01, 2012
---
I am a transplant now for 19 years along the river and I appreciate the evening skies, especialy in winter. The quiet is deafening at times, and the sky eats up our thoughts. Thank you to all who made this beauty possible!
Ruth M Mazar posted on: Sunday, December 02, 2012
---
Fabulous photo Ian. Spent many a night looking at that view.
posted on: Sunday, December 02, 2012
---
The stars are brignt and breathtaking and thank you for sharing it with us. Living in Texas for the 10 months I'm not on my island. The stars are big and bright down here too but the scenery with them from your picture is tremendous. I love getting the wallpapers each month to enjoy your talent with the camera. Thank you and have a wonderful holiday season.
Susan Saiter posted on: Monday, December 03, 2012
---