We begin the New Year with a transformed River. I had been intending to share an earlier, arguably more compelling view of this scene, taken at dawn on November 9th, but then on December 28th, our first winter storm finally relented, leaving us with a transformed landscape. This is how it looks now.
It has always been my theory that an early blanket of white reflects away the sun's heat and encourages winter to take hold, something that didn't happen here last winter. While those warmer temperatures were welcome, a winter's worth of evaporation from an unfrozen River was part of the low water problem we experienced last summer. Perhaps now we'll begin to turn the corner to see the beginnings of a recovery.

Because both scenes were previously posted on my Pinterest page, revealing the location, this month's posting will not be a contest. Instead, I hope it encourages those of you who have stories about this part of the River to share them with the rest of us.

I'll share one now. This is the mouth of Jones Creek, which is now part of the Thousand Islands National Park. I purchased a cottage here several years ago to provide access to the island and ever since have been offering it as a vacation rental each summer. The previous owners shared with me a story about the tiny island's creation.
A local legend handed down within their family was believed to be fact. I don't remember if this involved the Americans and British during the War of 1812 or if it was the French and British, earlier still. Either way, one group was pursuing the other, who happened to be delivering the payroll for the troops. With no roads, bushwhacking down the shoreline was difficult and it was likely they would get caught. Rather than risk losing it when they were further delayed crossing Jones Creek, they decided to toss the chest into the cove for later retrieval.
What they didn't realize is that the creek's bottom is very soft silt. I know this because I have to keep adding extensions to the pipes at the end of the dock. They keep sinking and are now fully 28 feet long! Apparently, "the treasure" was never recovered.

The former cottage owner's grandfather so believed this story to be true that in 1908 he used the family's savings to rent a dredge to do some serious digging in this pretty little inlet. In order not to cover unsearched areas, all the material raised was dumped in one spot, eventually rising out of the water to form an island.
Later, a drifting willow twig happened to take hold and its roots secured the soil from erosion, so the island remains, 105 years later, named Toniata by locals, after the Indian village that was here when the first missionary, Father Simon Le Moyne, came up the St. Lawrence in 1653.

So now it's your turn. Please share any stories of this portion of the River, say from Oak Point through Chippewa Bay along the US side or from Butternut Bay to Mallorytown Landing on the Canadian side.  
Health and happiness in the New Year,

Ian Coristine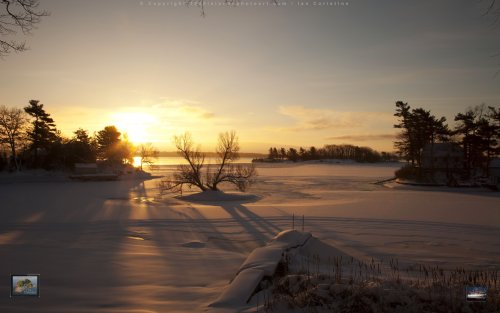 Comments
This is a great winter scene of Jones Creek, I only wonder what it might have looked like with the original road going through. The one that the land owners blew up.
William Elliott posted on: Tuesday, January 01, 2013
---
Happy New Year Ian! This beautiful view is looking across the bay at the mouth of Jones Creek - once known as the Toniata River by the first nations. It must be around 8 am on a crisp winter morning. I have often wondered how that willow "sundial" survives on that tiny mound of dirt. I have canoed past the tree many times. From a weather perspective that cirrostratus on the southeastern horizon reveals a low pressure area crossing the American northeast. There is much more to the weather story but that is enough for now :>)
posted on: Tuesday, January 01, 2013
---
Like my own summer pictures taken from the same spot, I do enjoy this beautiful scene. Happy New Year to you Ian.
Roebinia Biervliet posted on: Tuesday, January 01, 2013
---
Ian, As always your pictures are striking to look at and stir memories of this most beautiful part of the world while we are away. Thank you.
Peter Rutherford posted on: Tuesday, January 01, 2013
---
Thank you Ian! That was a great story; a bit of history I enjoy reading! I live on the St. Lawrence and am always amazed each day to see the transformations and differences the weather makes around here! Nice photo of Jones Creek area.
Nancy Fischer posted on: Tuesday, January 01, 2013
---
I drive past this scene many times on my way to art classes at St Lawrence College, Brockville from Wellesley Island NY. A few years back I tried a couple of watercolors of the bay but they are failures because I included too much of all the great subject matter in this picturesque bay- sometimes a problem when one works from photographs. If you see a guy with an easel this summer, plein air painting from the bridge, it might be me. Also if my wife would let me buy that new canoe with the Subaru under it, I would be exploring the views as I paddled in the opposite direction of the picture. I particularly like the reflections in the water of the white boathouse, somewhat tilted, that looks like it could slide into the water. I stayed up late last night to watch the ball drop in Times Square but dozed off and woke up at 12:07 am, otherwise I probably would have been awake earlier to comment sooner than Phil Chadwick.
posted on: Tuesday, January 01, 2013
---
Another great shot Ian! It stirs the blood for what awaits ... now only about 75 days away. A good Treasure Quest. Do you think he checked the place he dumped all that silt on first, or is the treasure now just deeper than ever?
Doug McLellan posted on: Tuesday, January 01, 2013
---
Ahhh, snow and ice! I am looking forward to the frozen days where ice fishing is safe and hikes in the hills can happen with regularity.I'll be on the river a couple of times this winter, hopefully an overnighter.Happy New Year everyone!
Richard Calabrese, Jr posted on: Tuesday, January 01, 2013
---
Happy New Year Ian...and may this new year be as successful as all your previous ones!! Hope you had a wonderful Christmas and you have certainly had a white one back in Canada....we are down in sunny Florida...where it is gorgeous. Enjoy the snow....and yes, we have 2 of your books down here and they are always popular with our American visitors...just as they are up north. Take care and all the best.
Sue & Mike Bullock posted on: Wednesday, January 02, 2013
---
Sigh....
Chris Piering posted on: Tuesday, January 01, 2013
---
Happy New Year Ian, Despite the snow and yes I agree with your thoughts on the need for more water, your photographs are a wonderful reminder of what we all so love. The stories of the river breathe life into this magic world we are blessed to occupy along with the permanent residents (bugs, rodents, fox, squirrels, fish, birds, etc.)
Thornley Stoker posted on: Tuesday, January 01, 2013
---
Hi Ian, Thanks for your story about that area. We pass by there each weekend in the summer and it will be nice to have the memory of this story to remind us of how many other great stories there are to be told. Your theory on the river sounds logical and I am sure we all pray that it works. All the very best for the New Year, Dave and Cathy Fownes, Stave Island/ Pointe Claire, Quebec
Dave & Cathy Fownes posted on: Tuesday, January 01, 2013
---
The picture looks beautiful and reminds me of our splendid summer holidays we spent in Ian's cottage. We "biked" around the trees several times with our two little daughters.
Suzanne Vink posted on: Tuesday, January 01, 2013
---
Thank you for such a lovely New Year's present.
Elizabeth Payne posted on: Tuesday, January 01, 2013
---
Happy New Year, Ian..... this is the tree we admired a few months ago while visiting you - most beautiful and memorable...
Ann Molnar posted on: Tuesday, January 01, 2013
---
As I was reading the comments, the second one was interesting; then when it got to the weather talk, I glanced at the writer...Phil the Forecaster! Hi Phil...been out paiinting lately? I painted the little red-roofed house to the right (not en pleine aire though) about 8 years ago. I told Ian I put it on WPBS art auction hoping the owner would see it. It was bought, but i don't know that it was by the owner. I'm glad I painted/took photos of it when I did. The trees have grown up quite a bit since then.
Janet Sullins posted on: Tuesday, January 01, 2013
---
I should have read further on...a post by another pleine aire painter friend, Bob Hedden....Bob, I didn't paint en pleine aire, but I was satisfied with the first go round! I would guess that cove is one of the most painted in all of Ontario on the river!Happy New Year!
Janet Sullins posted on: Tuesday, January 01, 2013
---
Great Scene: Thanks, and Happy New Year.Ray
Ray and Sunny Unseitig posted on: Tuesday, January 01, 2013
---
Thank you Ian. Happy New Year and all the best for 2013. What a beautiful picture! Danielle Pootmans
Danielle Pootmans posted on: Tuesday, January 01, 2013
---
Sitting here in New Jersey watching the webcams waiting for the River to freeze! Thanks for the photo and all your efforts.A great way to start the new year!
Bill Stromeyer posted on: Wednesday, January 02, 2013
---
Happy New Year, Ian. Yes, I agree and I think science is on our side. White snow/ice reflects sun. And I LOVE winter. So good to have it back with a little more force this year. With Global Warming increasing and extending we will have (US and Canada) less and less winter, alas. As a potential, 'winter-overer', I closely watched the river weather this fall and early winter. Gloom. Many sunless days. Maybe I will rethink this! It's going to happen more and more, folks thinking to use cottages come winter. Surely with landlubbers such as are on Grindstone, etc. Our Axeman pal, Jim Cote, keeps saying, "Bad idea!" He's so negative...c'mon, Jimmy boy- get a life! I would be existing in a one room situation w/o transport other than a Grumman skiff/outboard (across iffy ice)- and three miles from nearest mainland (Canada - at our long standing very great friends at Misty Isles, just above the bay there where the cliffs are; can't think of bay's name...) Doug at Anchor Marine offers transport but at last quote- $100 per trip (on ice boat). It will become more common though and less costly. I remember the first outboards. Not like the good doctor on the US side with his own ice boat and close to the US mainland. Still, he is impressive! I do think about it still. The seed is planted as I have related herein previously, by MacAvoy, a Sugar Island paddler of old. A local hero to 'Lake Fleeters' and many, many others. He used to come up from Yonkers- told Marjorie Breyer- my grandmother, "All the way from Yonkers in 'toiteen' days," he says to her one morning in the 1930's or late 1920's as he arrives off our upper-dock in a peanut shell towing a canoe (he called the canoe, his "cruiser"...)! Paddled all that way in his canoe/peanut-shell and also camped on the island in winter and would leave a note in our mailbox on the island dock. Summers he was a fixture on Bachelor Point. Dave Fishman calls across Brooklyn Bay to him, "Oye yoy, MacAvoy", morning! Great stuff!
Jack Patterson posted on: Wednesday, January 02, 2013
---
The January wall paper was sent to me from a friend in Brockville. It is great to see the River from the Canadian side. Thank you for such spectacular view. Not often we get to see the River in the winter from your side. We are from Morristown, NY/Northeast PA
John S. posted on: Thursday, January 03, 2013
---
Wow, i was introduced to Jones Creek 2 summers ago by another river rat, my neighbor. . . . He knows so much about the river and every year teaches me something about the amazing St. Larry!!!! It really and truly is the most beautiful and most unique place on the earth!!! Last summer, i introduced several more to Jones Creek, and the story about that island and the treasure and the willow tree will be told around the camp fire when we all reconnect at out beloved Blackstone Bay Memorial Day Weekend! Thanks for the picture and the history lesson all! Keep them coming!!
Barb Hynes Hoyler posted on: Thursday, January 03, 2013
---
Hello, Ian, and happy new year! When Carolyn and I lived in Maitland in the 1980s, we often traveled along the parkway to our cottage in Gananoque, and I always looked for the gutsy little tree on the small island at the mouth of Jones Creek. When I was taking a photography course from Julius Broklov at St. Lawrence College, I made a special trip out to catch the island and tree as the ice was newly forming and the fog was clearing; the print hangs in our hallway now. Thank you for the story behind the island!
Charles Kidd posted on: Thursday, January 03, 2013
---