I suspect that many of you have had limited exposure to the River during the off season. For that reason and because this is my first full winter here, I tend to think it's more interesting to continue to share winter moods than reverting to summer, at least for the moment. If you're starved for summer scenes, there are plenty archived in earlier wallpapers or in the dozens of Albums you'll find elsewhere on the site under Books, Places and Themes.
Speaking of which, perhaps I should take the opportunity to plug our iPad App One in a Thousand, which has plenty more. One, produced by the astonishingly talented team at McLellan Interactive Publishing, recently won two MarCom platinum awards for excellence in communications. It is a love story about the River, costs $9 and in addition to the 85,000 word memoir, includes a number of videos, River sounds, an interactive map, 18 unpublished Great Lake Swimmers instrumental tracks, 2 music videos and 455 of my images, many of which have not been seen elsewhere.
On the River the temperatures this winter have been going up and down like a yo-yo. We recently emerged from a bitterly cold spell which lasted about a week, and during the last couple of days the temperature reached 75 degrees higher than a week or so ago!
For this month, I was tempted to share a pretty sunrise image taken during the deep freeze with sea smoke billowing in the background, but instead decided on this image captured during a thaw which struck me as a little more out of the ordinary. I have a portrait version which I prefer, but as it won't satisfy the landscape proportions of a monitor, I'll go with this one for this month's wallpaper. You can see the portrait version on my Pinterest page. Please don't be shy to share any stories this image may prompt about winter or fog that you may have experienced.
While we endure the long winter lull, all is not as quiet as you may think on the River. Pivotal things are going on. I'd like to spotlight a very important article written by Susie Smith in the current issue of TI Life Magazine.
TI Life's founder, Paul Malo and I often discussed how the Thousand Islands could make a far greater impact were it to present itself to the world as a unique and united binational whole rather than having the countries, towns and attractions all presenting their messages individually. Working together as a cohesive entity, this region is no less worthy than, and can become another important international tourism Mecca like France's Provence or Italy's Tuscany or Cinque Terra.
A critically important initiative known as RiverQuest is underway to accomplish precisely this. You can learn more about it from Susie's (updated) article, RiverQuest Discovered in the January edition of TI Life Magazine.


Enjoy!
Ian Coristine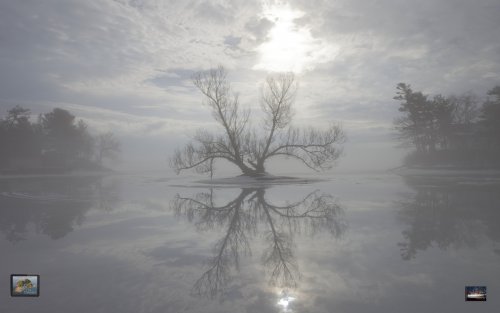 Comments
What an amazing photo!! I'm happy to share it with you from my warm home in NJ as opposed to the temps up there. Thank you!!
Georgia Barker posted on: Friday, February 01, 2013
---
Hauntingly beautiful - love the mirror image effect.
Judy Orr posted on: Friday, February 01, 2013
---
There was enough water to float my canoe... Climate change with its larger and stronger storm circulations will have more such weather conditions in the future...
posted on: Friday, February 01, 2013
---
Absolutely STUNNING!
Lauren Ennis Sarti posted on: Friday, February 01, 2013
---
Absolutely love this shot of the river, I so wish I could live there year round! So haunting and lovely!!
Gretchen Judge posted on: Friday, February 01, 2013
---
What a beautiful picture. You captured winter in the north, (at least this year). VT is experiencing the same. Let's hope the second half of winter brings snow. Thank you for sharing your pictures.
Margaret posted on: Friday, February 01, 2013
---
Always look forward to seeing 'your perspective', Ian. What an amazing tree.
Joe Meirose posted on: Friday, February 01, 2013
---
I love being able to keep in touch with the river through your photos. Thank-you for sharing.
Dale Barbur posted on: Friday, February 01, 2013
---
WOW - So Captivating... Please tell me if I am correct - is this the entrance to Jones Creek? (It is.)
Barbara Shufelt posted on: Friday, February 01, 2013
---
Spectacular photo. I love the winter but love my annual trek to the river (February).Is this the little tree on the little island just off of Manhattan Island?
Rich Calabrese, Jr posted on: Friday, February 01, 2013
---
Breathtaking, thank you
LA LaVanchard posted on: Friday, February 01, 2013
---
Thank you for taking me "back to the river" through your images!
Jane Hores posted on: Friday, February 01, 2013
---
Ian, Wish I was there. Thanks for the update.
Dave Fownes posted on: Monday, February 04, 2013
---
Although my father is no longer on this earth, this photo makes me feel as though this father figure tree is reaching out to me for a much welcome huge! It warmed my heart deeply! Thank you for your wonderful gift!
Shelly Colpitts posted on: Friday, March 22, 2013
---
Love this photo, such stillness.
Constance Cervone posted on: Tuesday, April 23, 2013
---