Several people came close to identifying last month's wallpaper image location, pointing to various spots in and around the Admiralties, but only one, Kim Yetto, picked the right island. When British surveyor Charles Unwin set out on the monumental task of surveying and naming all the islands in 1873, he began right here at Island Number 1, Windward. If you look closely, you'll also see Windward (the smaller of the two) dead centre in this month's image.
It's pictures like this that are why I felt compelled to do another book after I had clearly stated that "The very best of…" would be the last. It would be a crime not to share them with others who are passionate about the place. This time though, this really is my last book. Why? Because over the years, inflation has crept in, making it almost impossible to print a book with the physical quality that I insist on, at an affordable price.
By using a slightly less expensive (but still gorgeous) aqueous gloss on the pages plus the aforementioned giant print run, this book will actually retail for less than any since 2002 at $25 U.S. I'm hoping you'll recognize the value and buy plenty as gifts for your friends and guests. It's very seldom that you'll find a regional book of this physical quality at any price, and certainly never at this price. Look for them in shops on the River (only, I don't sell them elsewhere) by early June.
If you'd like to preorder a signed copy(ies) of Volume VII that will be sent as soon as they arrive in late May, please email me at ian@ThousandIslandsBooks.com or order online. If you prefer offline, I'll send you a PayPal request or a bill and you can simply mail a check. I'd strongly suggest that you consider adding another $6.50 U.S. to include a copy of the companion map (described last month) which I'm certain you'll appreciate. Please understand that when shipping these, I do need to add $10 to cover the cost of the mailer, handling and postage.
In the meantime, here's the final wallpaper image of the winter season. This, and all the images since January have served as a bit of a preview for what you'll discover in Volume VII.
Enjoy!
Ian Coristine
P.S. A reminder that we have a couple of summer rentals on offer in extraordinary parts of the world, the south of France and the 1000 Islands.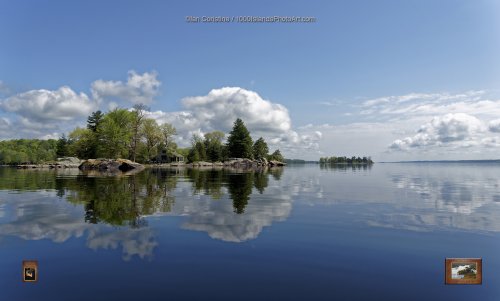 Comments
Hi Ian, Awesome picture... was looking at it full screen to see all the details, thinking where we had passed with the boat, where with the Seadoo and where we are going to explore this summer. Not to mention all the underwater marvels that await to be discovered. You certainly got a frame full of wonder. Many Thanks!
Brian Prince, Brockville ON posted on: Friday, May 01, 2015
---
Your photos keep the 1000 Islands close to my heart while I'm living and working far away.
Ian Burt, Cartersville, GA posted on: Friday, May 01, 2015
---
Hi Ian: If you look at April's comments, I did guess Island
Kim Yetto posted on: Friday, May 01, 2015
---
My sincere apologies Kim. Not sure how I missed that you correctly identified Island 1 last month. Congratulations! This blog reaches some 5,000 people and you were the only one to get it right. Well done! And Brian, a huge thank you to you for all your help in getting the shipwreck locations and their names sorted out. Thanks to Brian (Prince) of SOS (Save Ontario's Shipwrecks), we were not only able to place and identify all of them accurately on the map, but clean up several misconceptions and lore which had previously been circulating.
Ian Coristine, Raleigh Island, ON posted on: Friday, May 01, 2015
---
Thanks for sharing another beautiful "wallpaper" photo. I love where I live most of the year, but cherish 8-10 days each summer I get to spend in the Thousand Islands nearly every one of my 55 years. The contract makes me appreciate both all that much more. See "you" in June!
Paul Karas posted on: Saturday, May 02, 2015
---
This aerial view of the 1000 Islands is breathtaking. It makes you feel as if you're in the plane, looking down at one of nature's most exquisite achievements. Many thanks as always! Spectacular.
Jody Wright posted on: Saturday, May 02, 2015
---
Thanks for this cool image. I look forward to this at the beginning of each month.
Bob Blake, Ottawa ON posted on: Saturday, May 02, 2015
---
If I'm not mistaken, the Canadian span is on the left and the American on the right?
Kyle Petersen posted on: Thursday, May 07, 2015
---