Once again, the first winter wallpaper of the season comes a month late with the same excuse as a year ago. November 1st found us in France, making my camera happy with a very different landscape which we welcome you to explore via the link to our French website.
With Christmas looming, I scoured the library for something in keeping with the season. For those of you who haven't seen the River when cold descends, this is what often happens at this time of year. The water still holds some warmth, but the first really cold spell forces it to give up its heat as sea smoke while the ice forms. If you can identify where this was taken and share an interesting tidbit or story that this scene might prompt, please be my guest.
Should Santa need some help, my new book Volume VII (Ian Coristine's 1000 Islands - $40) launched this summer and might fill the bill. I also have a small quantity of Volume II (Water, Wind and Sky - $50) and Volume V (The very best of… - $50) remaining. Volumes I, III and IV are long sold out, however I did hoard a case of Volume I. Copies of Volume I have sold for as much as $400 on the Internet, so I hope you'll forgive me asking $200 for the very few that remain. All the books are shipped with our new trifold pocket map which is a huge step up over the earlier one. It not only shows the location of all of Volume VII's images, but everything worth doing on both sides of the River.
Stocking stuffers are easily solved for iPad (only) owners. Our interactive eBook "One in a Thousand" costs only $9 and comes with hundreds of images, video and music to support the (true) story. You can buy or gift it at the iTunes Store or get an overview of it here.
May I also remind you that just a few days remain to submit images to Susie Smith for TI Life's annual photo contest. We're hoping you'll help us raise the bar again this year by submitting great images that celebrate our favorite place. Think of them as we do - A Christmas gift to the community.
A further word on France. Lyne and I are deeply enamored with that country, so much so that last year we bought a tiny 500-year-old "pied à terre" in the south which is available (very affordably) for rental when we aren't there. If you think this might be of interest, check it out: Petitemaisondecharme.com. If you click on "What's Nearby," you'll not only get to explore the neighborhood, but see some of the pictures that have been keeping my camera and me happy over there. These too can be printed as giclées if any tickle your fancy.
Merry Christmas,

Ian Coristine
1000IslandsPhotoArt.com
OneinaThousand.ca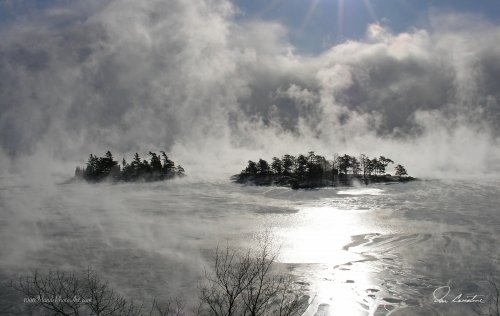 Comments
Hi Ian, Would that happen to be a picture taken from the parkway of your island with the top of the tree in your bay as the forefront? All the best for the holidays. A la prochaine, Dave
Dave Fownes posted on: Tuesday, December 01, 2015
---
It would not be fair for me to ID the location but as a hint, there is an island behind the sea smoke that marks a shipping channel 'change'. I have spent a lot of time in this area but the skim of ice reminds me of crossing to these very islands as a youngster. I would walk beside a 12' aluminum boat with a buddy on the opposite gunnel and drag the boat along in case the ice broke - which it did more than a few times. Not a particularly clever activity but I think that was whole the point. We made it over and back a few times with just a boot full of ice water and little rush of adrenaline. Happily I have progressed to less fool hardy ventures but as a kid it was great thrill of accomplishment.
David Tolton posted on: Thursday, December 03, 2015
---