Congratulations to Dale Maclaughlin, Rick Gregware, Tom Tresohlavy, Hugh Cowan, Sandy and Jack Patterson, all of whom correctly identified last month's scene as the south bay at Endymion Island in the Lake Fleet Group. Simon Fuller also got it right, suggesting this view is in Brockville, because it is. A 7-foot wide canvas graces the amenity lobby of the new Tall Ships Landing building.
Last month I shared with you that I have a new book of 1000 Islands photography coming in late spring. I also suggested there were a couple of reasons (beyond new images) that make it better than any of my others.
When I did my first book, I thought a map would add tremendous value. To provide the largest scale without sacrificing pages, I used a western and eastern half as end sheets. Printing two different 4-color maps is considerably more expensive than using plain paper, but they added value by using coordinates and page numbers to show the location of every image so the book could also function as a guide.
In the era before Google Maps, this proved a far bigger challenge than I imagined. I drove the map creator nuts for about six months. In the end, had I asked for one more addition, he would have shot me. To be honest, we were both used up. However, it proved valuable even if it wasn't graphically as attractive as I wanted.
This new book will finally get the map I had always hoped for, thanks to a professional cartographer working in conjunction with my graphics guru who both stoically withstood all the information we heaped on them. The result not only looks vastly improved, but contains significantly more information (attractions, points of interest, tour boat ports, Canadian and US parks, marinas with gas, golf courses, accurate shipwreck sites and much more) that can't easily be found elsewhere.
It has always been important to me that the books be of high physical quality so they'll look as good years from now as they do when new. I hate paperback and dust jacket covers because they look shopworn almost as soon as they get home. This book will again feature richly padded hard covers with matte lamination with a precise portion in gloss as well as foil.
I believe it's important that these elements send a subliminal message to the world, stating that the 1000 Islands are similarly of high quality, with another unspoken message - there's more here than castles. Taking the quality cover concept a step further (despite the economics involved), the pocket maps will feature cardboard covers with the same elements as the book's cover.
Few realize that this level of physical quality is seldom offered (virtually never for regional books and forget it with a map) because it's prohibitively expensive to do in small print runs. That's the final critical element. The book (and map) must be easily affordable and there's only one way without sacrificing quality - taking a gamble on a huge print run. Despite selling only on the River, the book order is for quadruple that of a nationally distributed bestseller in order to get the unit cost low. The map run is double that. I'm hoping you'll appreciate their value and not only get one for yourself, but many more as gifts for friends, guests or customers.
In the meantime, how about identifying where this scene is with any stories it may prompt? (And cross your fingers that this all works out.)
P.S. A reminder that we have a couple of summer rentals on offer in extraordinary parts of the world, the south of France and in the 1000 Islands.
Ian Coristine
1000IslandsPhotoArt.com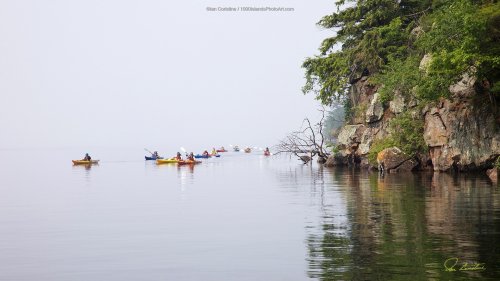 Comments
At first I thought it is the corner of Bostwick (York) Island between Sagastaweka Island and Half Moon Bay, but then thought it is the west side of Sagastaweka Island, what we call Sunset Cliff, with Little Sagastaweka Island (the slightly hazier treeline in the background between the branch and the rocks) peaking through. The kayaking group is probably the tour out of Gananoque. Lovely shot. Thank you.
Winifred McGowan posted on: Wednesday, April 01, 2015
---
I believe the kayakers are making their way around Is.
Kim Yetto posted on: Wednesday, April 01, 2015
---
The photo appears to have been taken from the docks extending off the front path of Sagastaweka Island, as one would look right down the channel toward Gananoque. Our family, the Wrights, enjoyed living on the island for many summers as youth. We sold the island to a couple from Toronto in 2008.
Lawrie Chase posted on: Wednesday, April 01, 2015
---
Well, I can say that around many corners while traveling through the 1000 Islands will you find people on the water enjoying their kayak. The one place that I have seen them many times and the place that this resembles is at the entrance to Half Moon Bay. Located on Bostwick island in the Admiralty group.For 42 years now my family and I have been renting a cottage west of Gananoque for 1 week each August. Ever since I was old enough to pilot my grandfather's boat I have been exploring. Each trip out I would travel just a little further than the last. Once I circled each island (that is possible to circle in a 15 foot runabout) in the Admiralty group. I moved on to the Lake Fleet group, then the Navy and so on. Though I have inherited the boat and it continues to make the yearly trip to the river, my preferred method of exploring has graduated to a SeaDoo which has greatly increased my exploring capabilities. Can I circle all (that is possible on a SeaDoo) 1,864?
Scott Litwak posted on: Wednesday, April 01, 2015
---
Ian, Will there be an easy way to purchase from out of town? We will be moving to Phoenix area in early May and definitely want to add this to my collection. Thanks for always thinking quality first because you definitely capture the river in all its glory. Cheers, John
John Cirocco posted on: Wednesday, April 01, 2015
---
This April wallpaper could be of the west end of Skelton Is. (east end of Brock Group), with the paddlers coming from the outfitters in Brockville's St. Lawrence Park. Looked at from the right angle, there is the face of a lion in one of the rocks just to the right of those in the photo.
Robert Millar posted on: Wednesday, April 01, 2015
---
Looks like a group of kayakers coming out of Half Moon Bay at the northern end of Bostwick Island on a foggy day!
Susan Saiter posted on: Wednesday, April 01, 2015
---
Thank you for the lovely April wallpaper! Since our island is Cleopatra, and since I have kayaked around Yoe so many times in my life, I am almost 100% certain that your picture represents kayakers along the side of Yoe. I hope I'm right! It's beautiful photo as always.
Lisa Seeman posted on: Wednesday, April 01, 2015
---
Excellent photos!
Mike Willis O'Connor posted on: Wednesday, April 01, 2015
---
John, next month we'll post a link in the wallpaper story to preorder signed copies which we expect will arrive and be ready to ship to you by the end of May, possibly earlier. At the moment, we're waiting (with bated breath) to see the first advance copy. It's always a big deal when the baby is finally born, the reward at the end of a long (5 years) and involved process. You'd think that it would get simpler over time, but for whatever reason, that's just not the case. However, with the library having expanded to over 50,000 images to choose from, this one promises to be the best yet.
Ian Coristine posted on: Wednesday, April 01, 2015
---
My two children, Jeff and Lisa Seemann, identified this as Yeo Island. We own Cleopatra Island which is just upriver from Yeo. We have paddled and motored around Yeo many times, swam to it from Cleopatra Island and hiked on it before it was bought by the current owner who posted the island. There is a large cross mounted on the highest point of the island at the north end. Over the years we have heard several stories as to the origin of the cross.
Jackie Skolnik posted on: Wednesday, April 01, 2015
---
The photo appears to be the side of Mary Island.
Jim O'Brien posted on: Friday, April 03, 2015
---