I lied.
At the time, I honestly thought I was speaking the truth, but it's now clear that I wasn't. When Volume V, "The very best of…" came out in 2010, I had recently sold my plane and wanted to end all the dawns and dusks spent chasing images to get a life. Our iPad eBook "One in a Thousand" would be my next focus and I already had all the images I needed for it. My final photography book was behind me.
But it seems I couldn't put the camera down.
Five years on, I find myself (at this writing) with 13,946 new images that I felt were worth keeping, many raising the bar over what I had before. It's interesting that when you dedicate yourself to shooting just a single place for a very long period of time, you learn to better anticipate opportunities. Luck also plays a role, but the more time you have to wait for it, the more likely luck will come your way.
Most importantly, I've had another huge advantage which most photographers don't have. I'm not chasing other jobs and I live in the middle of "the assignment" full time. When opportunity knocks, I'm lucky enough to already be there - with my camera.
There's another factor which has encouraged me to do a new book. Over the last few years, the evolution of cameras and software has accelerated dramatically. The camera I now own has 12 times the resolution of the one I used for Volume I and thanks to DxO's software and far superior sensors, I can shoot in light which earlier cameras couldn't. This month's wallpaper is an example of that.
Lastly, 1000 Islands Helicopters arrived on the scene and while renting helicopters is massively more expensive than simply pouring fuel into my own plane, it has allowed me to get back into the sky to capture what I've always referred to as "the privileged view" - with the camera of my dreams!
The result is Volume VII. I wouldn't have done it if it wasn't worth doing. It goes without saying that each book must be significantly better than the last. Otherwise, what's the point? While I can't use the title "The very best…" again, this book actually is.
More than half the images are new, earning their way in because they are better than what I'd captured before. For the remainder, I "cherry picked" from the 15 prior years of shooting. I'd also like to think that the captions have kept pace. It's always been important to me that they educate and entertain, not just state the obvious.
There are two other reasons why you'll find this book to be better than what came before, but this blurb has gone on too long already, so I'll tell you about them next month. In the meantime, see if you can tell me something about where this was taken.
Ian Coristine
1000IslandsPhotoArt.com
OneinaThousand.ca
P.S. Just a reminder. We have a couple of summer rentals on offer in extraordinary parts of the world, the south of France and in the 1000 Islands.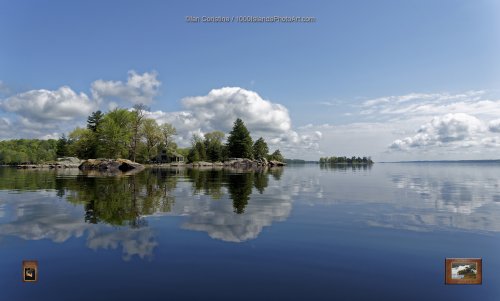 Comments
Harbor of Leek Island - Thwartway?
George Keiser posted on: Sunday, March 01, 2015
---
Very happy to hear that you decided to put together another book! I look forward to getting one and re-completing my collection :) I know you will have put together another masterpiece dedicated to this amazing destination. The cover looks great! Particularly like the back cover's reference to your previous projects/medias. Congratulations.
Jay Thompson, Brockville, ON posted on: Sunday, March 01, 2015
---
Eel Bay & Grindstone Island near Picnic Point
Bill Simmonds posted on: Sunday, March 01, 2015
---
A new book! Congratulations, guess we will have to line up to get the newest book when it is available!
Anne Beatty Brockville posted on: Sunday, March 01, 2015
---
Canadian State Park anchorage on the south shore of Endymion Island
Dale Maclaughlin posted on: Sunday, March 01, 2015
---
Yay, another collection of photos to delight in! Thank you, Ian, for continuing to bring your art to the world. I'm from the Toronto area but have frequently visited the 1000 Islands. Your books gave me that 'privilieged' viewpoint, helping me to appreciate the beauty and stories of your home. I'm pleased you're still at it.
Carmen Kirschling posted on: Sunday, March 01, 2015
---
I believe this is the cove of Picton Island off of Eel Bay. On the left of the photo is a tiny snippet of Murray Island with Long Rock of Grenell Island further back and perhaps a snippet of Basswood to the right of Grenell. Eel Bay is a great place to fish for Perch! Am I correct? Keep your photos coming -it has been a very long and cold Winter!! As my brother always says -It's Almost May 1st! Thank you for all you do.
Mary Ellen Holden posted on: Sunday, March 01, 2015
---
Longing to be EXACTLY in this spot asap Ian, thrilled you have more of your magic to share with us!
lori Moose posted on: Sunday, March 01, 2015
---
I am so much looking forward to your new book, Ian. The Thousand Islands have never been the same since you captured its beauty in your photographs. It is wonderful to hear that your work is continuing.
Rosemary Sexton posted on: Sunday, March 01, 2015
---
Ian,Once an artist, always an artist! Best, Trude
posted on: Sunday, March 01, 2015
---
Will your new book be available to purchase in hard cover...or only in I-Pad format???? You may have already answered this question. I didn't take the time to read the previuos comments !!!!
Colleen & Bob Walker posted on: Sunday, March 01, 2015
---
Congratulations, we look forward to obtaining your new book upon its release.We have enjoyed all of your previous books.
Peter Rutherford posted on: Sunday, March 01, 2015
---
Right on Dale! Beautiful pic Ian!
Rick Gregware posted on: Sunday, March 01, 2015
---
Colleen and Bob, this will be a padded hard cover with matte lamination, spot gloss UV and gold foil, similar to the earlier books, with aqueous gloss applied to all the inside pages.
posted on: Sunday, March 01, 2015
---
Back side of Wallace Island. I have walked that island of many times as a child, back then Russ Haruff had the red cottage and the white house I don't remember, it was so long ago but that was built first. There is rock in the middle of the island that I believe the Indians used as a grist mill because there is a perfect smooth round concave ground on it. There is also is one at the point of Lyndock Island heading to Gananoque. Hope I am right, it's been a while.
Tim Bresnahan posted on: Sunday, March 01, 2015
---
This photo was taken looking west in Lobby 300 of Tall Ships Landing!
Simon Fuller posted on: Sunday, March 01, 2015
---
Hello Ian,The guys and gals from Goose Rocks are visiting Florida and want to say hello. We have spent many, many nights in this mooring field on the south shore of Endymion and it is one of our favorites. Can't wait for your new book. Congratulations
Tom Tresohlavy posted on: Monday, March 02, 2015
---
This is the big South Bay at Endymion Island - clear as a bell - and many happy memories there, including several shared earlier today. In typing in the security code, many, many times today, it was rejected as being incorrect, though correctly entered. Something seems to be wrong here though noted this evening that while 16 or so have apparently been able to respond to the site, none have identified that wonderful anchorage at Endymion.
Hugh Cowan posted on: Monday, March 02, 2015
---
Dale, Rick and Tom are correct. It's one of my favorite views, because it's the final leg in our trip to our cottage. Especially exciting is the first ride along this trajectory each year. The suspense builds as we round Canoe Point, pass this side of Endymion, wind further along the north edge of Grindstone, then straight ahead, my family's favorite place on earth: Black Island. What will we find? Downed trees resting on the cottage roof (again)? Gotta wait till spring to find out!
Sandy posted on: Monday, March 02, 2015
---
Bravo! A new book of pictures. Great good luck, Ian. And this of course, to us who live nearby, is the south or Grindstone side of Endymion, now a Canadian island park.
Jack Patterson, Axeman Island posted on: Saturday, March 07, 2015
---