Last month's image spotlighted the Canadian Empress with Captain Brian Johnson intrepidly posing her like a glamour girl inside Sister Island rather than the traditional outside route up the channel. I had always been curious why old charts and stories labeled this island as the Three Sisters, while nowadays it's known as Sister Island. That mystery was cleared up when I purchased a beautiful pencil drawing of the lighthouse, dated 1870, the year of its construction, very clearly showing two bridges linking three islands. Somewhere along the line a bored light keeper must have filled in the gaps with stone, thus creating a single island.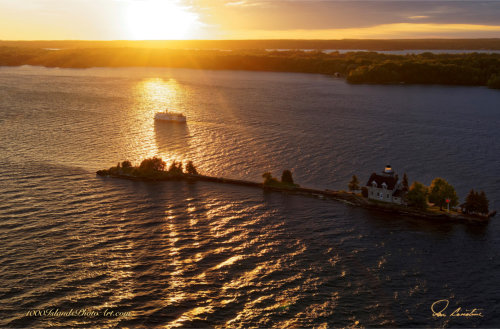 With March now upon us, I think we've had sufficient winter that it's time to bring back summer with this month's image plus a TV show. I suspect many of you will recognize our little piece of Paradise, but if not, you certainly will if you choose to watch Cottage Life TV's "My Retreat." You'll need a password to view it (whistlestop2015). There are two cottages featured in the production which initially aired last year. Raleigh Island's segment begins at the 12:43 mark. Here's hoping this brief return to summer will get you stoked to get back to the River.
I also have some epic news to share. After 8 years of effort by a dedicated team and an investment of over 25 million dollars, the 27,000 square foot Aquatarium is opening its doors in Brockville this very morning, March 1st! This major initiative was spearheaded by Ottawa's Simon Fuller and his vision of showcasing the entire 1000 Islands region, which during the Gilded Age was a celebrated destination, but despite many laudable efforts, remains frustratingly unknown and underappreciated in modern times. I know this very well because I lived 45 years of my life an hour and a half away without any clue it existed.
The Aquatarium was built in partnership with the City of Brockville with additional support coming from both federal and provincial governments as well as the local community. It features a trio of lively otters, aquaria, many very cool interactive exhibits, a theatre and much more, all designed to showcase the majesty, history and lore of the 1000 Islands. I'm proud to mention that one of a few films in the theatre is a ten minute production about the River as seen through my eyes.
It's all part of the Tall Ships Landing complex which includes condominiums, a stunning nautical-themed waterfront restaurant (opening March 22nd) and interesting shops, one of which will offer art prints of many of the images you see on this site. The TSL complex is one of the most ambitious projects ever undertaken in the region, with the goal that along with the established attractions plus several new initiatives, it will help the region regain the celebrity it once enjoyed and still deserves.
Here's your March wallpaper image. As always, please don't be shy to share any stories or thoughts that it may provoke.
Enjoy!
Ian Coristine
1000IslandsPhotoArt.com
OneinaThousand.ca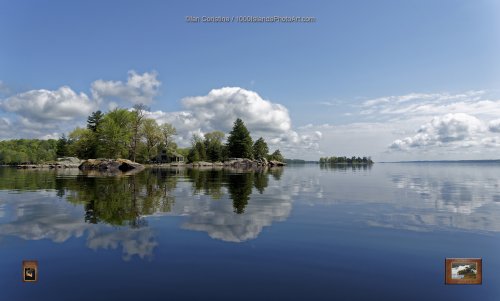 Comments
What a breath of fresh air the March 2016 wallpaper brings to each of us "river rats!" Thank you!!
Bev Ouderkirk posted on: Tuesday, March 01, 2016
---
It makes winter seem so much shorter. It just brightens up the whole room. Can't wait to be back.
Tim Tausz posted on: Wednesday, March 02, 2016
---
This was just fabulous, Ian! Thank you so much for allowing us to access it.
Martha Hosey posted on: Wednesday, March 02, 2016
---
Is that Belabourer Island on the East side of the Lake Fleet Islands?
Sam Bradley posted on: Wednesday, March 16, 2016
---