Several people correctly identified the location of last month's image as you'll see in January's comments. As my old friend Carl Hiebert (an acclaimed Canadian photographer) once coached me, "The secret to photography is to just show up." He's absolutely right and unlike many of my images, showing up for this one couldn't have been easier. I slid the living room door open and snapped the picture. It's the view we enjoy during winter when we can't be at the island: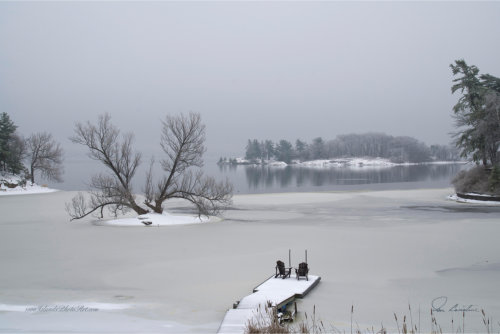 Showing up for February's image wasn't quite so easy. I seldom accept photo assignments because I don't know how to make magic happen on order. This request was different, however. Jason Clark is the nephew of St. Lawrence Cruise Line's owner, Bob Clark. Bob is a very decent guy. Furthermore, I owe him.
Several years ago, I shared with Bob some of the challenges that Brockville's Tall Ships Landing and Aquatarium development were facing due to the ongoing effects of 2009's Great Recession. A line had been drawn in the sand. If, by a particular deadline, condo sales hadn't passed a certain point, the project wouldn't be economically feasible and would be canceled. Understanding how much good the project could do for the entire region, Bob volunteered, "If it ever comes down to a single sale that will tip the scales, give me a call."
Perhaps a year later, that's exactly what happened. Reluctantly and nervously, I made the call as all other avenues had come up dry. Despite this being Brockville and Bob being a Kingstonian, he was in! A major stumbling block occurred while choosing a unit. After explaining that the lowest units began on the 6th floor, he responded, "Myrna (Bob's wife) can't do elevators. She's terrified so there's no chance we'll be able to live there." Nevertheless, he was up to his word, made the commitment, and the project squeaked across the line, just. Soon afterwards, sales began accelerating and Bob's amazing gesture was no longer required, but when it counted, he made the difference.
So when Jason called, explaining that there were only two possible days to shoot the Canadian Empress before Lyne and I left for France last fall, I agreed. Jordan Mol of Gananoque's 1000 Islands Helicopters rose (literally) to the occasion and we flew one evening and the following dawn while Captain Brian Johnson willingly (and occasionally bravely) took the Empress into new waters to pose in places she had never previously ventured (but now I suspect will).
I must add that several years ago, I had the pleasure of cruising on the Empress. What an eye opener! Just like the 1000 Islands Tower, which I had thought of as "only for tourists," but later discovered was much more than that, experiencing an overnight cruise was a revelation. Sitting on the rear deck, beer in hand, watching the islands slip past as the sun set while a delicious meal was being prepared prior to anchoring overnight in the middle of the River, was something I hadn't experienced. If you or your friends are looking for a wonderfully different way to enjoy and explore our favorite place, I'd strongly suggest you consider a cruise with St. Lawrence Cruise Lines.
Don't be shy to share stories about the location of this month's image, or perhaps your experiences if you've ever cruised aboard the Empress.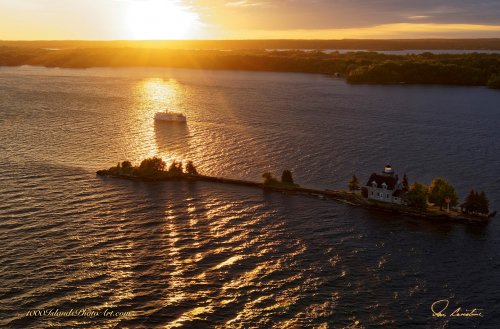 Comments
Good Morning Ian, An exceptional shot of the Canadian Empress down-bound on the "backside" of Sister Isle.Fortunately the same view "angle" we so much enjoy from our cottage near Oak Isle. Thanks for the treat!, Robb
Rob Dehm posted on: Monday, February 01, 2016
---
Hi Ian, Three sisters island? I do not have any stories however now that we are through January it is nice to be looking at the downside of winter towards our migration back to the islands. All the best and thank you for sharing that story, Dave
Dave Fownes posted on: Monday, February 01, 2016
---
My son Ross was the First Officer on board that day with Captain Brian. I recall him describing how they took the Canadian Empress some places it had never been before so that your pictures showed the beauty of the surrounding islands. It did not seem to bother the Captain as he had, no doubt, been there before on one of the Gananoque Boat Line vessels. I trust you got the pictures you wanted and I know Bob and Jason were most happy to provide the ship for you to use as background.
Ewart Richardson posted on: Monday, February 01, 2016
---
What a great way to wake up and read your Empress story …… thank you again Ian….
Phyllis Gardner, Clayton NY posted on: Monday, February 01, 2016
---
Ian,What a beautiful shot of Sister Lighthouse. Love it. Thank you.Dale and Susan Stoughtenger
Susan & Dale Stoughtenger posted on: Monday, February 01, 2016
---
Thank you so much for what you do. You have no idea how special your emails/photos, etc. are to me. Long story, not a lot of time. Thanks again, Molly
Molly Kirchberger posted on: Wednesday, February 03, 2016
---
Breathtaking, beautiful shot.
Helen Davenport posted on: Wednesday, February 03, 2016
---
A sad footnote to February's wallpaper. Bob Clark passed away just 25 days after this story was posted. His memorial service was held on March 4th, standing room only, overflowing with family and friends, all sharing stories about an amazing character while paying tribute to a man who made a lasting positive difference to his community and everyone he interacted with.
Ian Coristine, Raleigh Island, ON posted on: Friday, March 04, 2016
---