It is with sadness that I add a footnote to February's wallpaper (bit.ly/1OBpv1w). Kingston's Bob Clark, owner of the Canadian Empress, passed away just 25 days after that story was posted. His memorial service on March 4th was standing room only, overflowing with family and friends, all sharing stories about an amazing character while paying tribute to a man who made a lasting positive difference to his community and everyone he interacted with.
Last month's image of Raleigh Island (bit.ly/1RixSSR) included a link to a Cottage Life TV episode at our island which generated positive feedback. With that in mind, if you'd like to revisit the River one more time, you might enjoy a French TV show (O'Chalet, Episode 8 - bit.ly/1M3dEs2) which also visited Raleigh as well as Lucie & Joe Pal's Ivy Restaurant. The only problem will be enduring my very poor French, but Lyne and Lucie will make up for it. Thanks go to Todd Bickerton who was responsible for interesting the network in filming our River.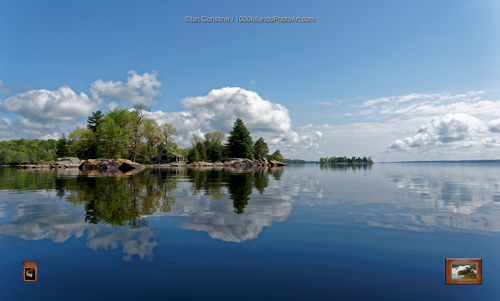 As mentioned last month, Brockville's new Aquatarium (bit.ly/1JVvd1x) is now open and getting rave reviews. If you love the 1000 Islands, you'll love the Aquatarium whose mission is to showcase the entire 1000 Islands region. You'll also love two new components, just opening now. Dockside Living's 1000 Islands Shoppe opened a week ago, also garnering rave reviews as one of the finest retail shops in the region, featuring superior products from art to fine furniture.
A unique restaurant, Tall Ships Landing's Waterfront Grille, the final feather in the hat of this 70-million dollar project (Aquatarium, TSL, Dockside Living and the Waterfront Grille) is scheduled to open on April 7th. Operated by a renowned Ottawa restauranteur, it will feature fine food in an unusual and beautiful nautically-themed dining room with a terrace overlooking Brockville's harbor.
Each of these new initiatives is well worthy of a detour. Together, they are a must. If you're coming to the River this summer from the U.S. side, don't forget your passport, you'll be needing it. I'm a sucker for quality, so please believe me that I wouldn't speak this enthusiastically if it all wasn't worthy.
With spring now well underway, I thought I'd share an image taken last spring. FWIW, this image was shot with my tiny Sony RX 100 II pocket camera. It continues to amaze me how far digital cameras have come and that you don't need to spend a fortune to capture meaningful images.
As always, If you can identify where it was taken or share an interesting tidbit or story that it might prompt, please do so.
Enjoy!
Ian Coristine
1000IslandsPhotoArt.com
OneinaThousand.ca
P.S. Lyne and I have two homes available as vacation rentals when we aren't using them. Both our tiny 500-year-old "chateau" in the south of France and our shore cottage in the 1000 Islands are available by the week or for longer stays from May through September.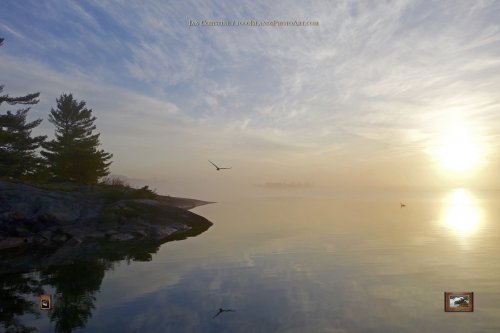 Comments
Ian, Sorry I missed you at Bob's wake. It was so strange when the great need to start to write again about things to do with the Empress sparked me into starting info and stories of those early days of the ship's history. One never knows when or where we will meet again.
posted on: Friday, April 01, 2016
---
Just spectacular, as always, Ian. Thank you.
Jody Reynolds posted on: Friday, April 01, 2016
---
Hi Ian, I started reading the article not knowing you had written it but half way though I knew it had to be you! Hope to be coming by in June!
Ann Molnar posted on: Saturday, April 02, 2016
---
Such a wonderful photo…..enjoy the spring and summer.
Phyllis Gardner, Clayton, NY. posted on: Saturday, April 02, 2016
---
I am sure that this beautiful photo of rounded granite is Raleigh Island, where Ian has his beloved cottage, looking east towards Brockville, in the early morning sunrise. What is missing are the Adirondack chairs, the glass of wine, the dog and the pitch pine...all soon to be enjoyed!
Irene Chahley posted on: Saturday, April 02, 2016
---
Beautiful picture Ian. I mentioned your Chateau to a friend from Quebec and they would like some more info regarding the location and the cost per week. Thanks Ian
Ian Stephenson posted on: Sunday, April 03, 2016
---
Can't wait to get another signed copy of the newest book for my daughter out west.
Ian Stephenson posted on: Sunday, April 03, 2016
---
Ian, you will find pictures and information including rates for our little "Château" in France here: bit.ly/1LIfuBN
Lyne Roberge posted on: Sunday, April 03, 2016
---