For the last two months, I had intended to share a summer image to help bring those of you who are experiencing winter withdrawal back to the River. Both times, my plan was thwarted at the last minute by images captured just before posting. And so it is again. 
This is my second winter living on the River. I have to say that in a very different way, it's every bit as beautiful as it is in summer, particularly last week. An ice storm followed by a gentle snowfall provided beautiful scenes in every direction. My thought is that you'll enjoy seeing the River in a way that most of you seldom, if ever, get to see.
I spent an entire day trying to decide between several images, all taken within a minute or two, but all quite different. The next day I went out again and the decision became even more complicated with a couple more worthy candidates added to the mix. I wish I could share them all. Perhaps I will, over time, on One in a Thousand's Facebook and Pinterest pages.
Speaking of One, for those of you who received a new iPad for Christmas, our award winning interactive eBook is available in the iPad App Store for just $8.99. I think you'll find it amazing value because beyond the 86,000 word true story, co-written with novelist Donna Walsh Inglehart, McLellan Interactive Publishing managed to include several videos, Great Lake Swimmers' music and over 450 of my images and an iPad displays images better than a printed page ever could.
If you can identify the location where this month's image was taken, please don't be shy to share it, or any stories or comments it may illicit.
Happy New Year,

Ian Coristine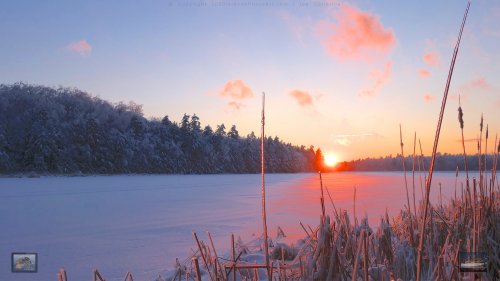 Comments
Wow, what a gift to all of us River folks. Thanks so much Ian and all the best in 2014.
Tom Walsh posted on: Wednesday, January 01, 2014
---
The black & white is at the entrance to Jones Creek in front of your house. Maybe from your front yard. The second is at sunset of Jones Creek just off the double bridge carrying the TI Parkway over Jones Creek. We take our grandchildren "crayfish hunting" there on rainy days. We turn over rocks under the shelter of the bridges amid giggles and squeals. This may be a bit unfair as we own in Butternut Bay. By the way, you stopped at the dock there with your Hobie kayak. We were so impressed we bought one also. Perhaps we will run into each other on the River in our kayaks. Happy New Year
posted on: Wednesday, January 01, 2014
---
I presume this photo is looking North West on the east side of Jones Creek. Sorry, no stories except for the wonderful visit with you in early November, picking up the tall ship print. All the best for 2014 and hope to see you this summer.
David Fownes posted on: Wednesday, January 01, 2014
---
Wonderful! Wonderful! Thank you, Maestro! It isn't the bridge. Or Kingston - nor is it that island, now a rookery for herons (Ironsides?) on the American side which is what I thought of first. I WILL (eventually) winter over! When I first broached that subject friends in/from Gan were so, so, SO negative, they were saying there was no beauty (in the winter), it was too harsh, all differrent, etc., ... blah, blah, blah! Deliver me. They were thus perhaps like the original realtors in 1924 (& 5) as my grandmother relates in her marvelous recounting ("Five Generations") of coming to the islands after unlikely spending a year as a family in a Paris suburb, somehow having always summered at the shore - the eastern shore of Maryland - Ocean Beach, etc. Like so many she had no inkling of the charm, draw, waiting adventures, history, beauty, rare fresh water and the maze of isles in an extensive lake-like area, a true paradise! Those realtors, as Nana relates, wanted to put this "pioneer woman" as once she was referred to, in close to shore, in a house similar to one might easily find on the streets of Clayton, Gananoque (or Peoria, Ill. for that matter, Nan). But they, Nana and Bampy ... who prior to their buying an island with all the funds in the 'building and loan account' at 'the company', and who owned no home or property otherwise; had four spirited teenage daughters, and could not get it through the realtors' heads that these folks, even driving two days from Baltimore (then), wanted, preferred, favored, sought especially, had an eye out for, pined & opted for a rough, undeveloped - no one else's dream... an adventure away from it all (even back THEN) that made two days getting here part of its very, very special flavor. Wahoo!
Jack Patterson, Axeman Island posted on: Thursday, January 02, 2014
---
Hello Ian, I admit to an unfair advantage but I too recognized Jones Creek just past the Parkway Bridge having paddled over from Raleigh. Many times I have been privileged to kayak the main rivers and enjoyed the many heron, turtles and eagles along the main creek and tributaries.Thank you for the wonderful photos and memories.
Steve Jarvis posted on: Monday, January 06, 2014
---