I'll start with an apology, because normally my Thousand Islands wallpaper images begin on November 1st, however I was fortunate to be exploring another beautiful area - the south of France (more on that below) with no usable Internet connection, so the first "winter withdrawal" River image comes now.
With Christmas looming, I considered sharing a winter scene, but finally decided that with cold having descended early for many of us this year, perhaps it's better to share a warmer moment. In deference to the season, at least it's (somewhat) white. If you can identify where it was taken and share an interesting tidbit or story that this scene might prompt, please be my guest.
Should Santa need some suggestions, I have a small quantity of Volumes II (Water, Wind and Sky) and Volume V (The very best of…) remaining. They are both available at $50, shipping included. If you're missing any others from the set, Volume I, Volume III and Volume IV are long sold out, however I did hoard a case of each of I and III. Copies of Volume I have been selling for as much as $400 on the Internet, so I hope you'll understand my asking $200 for the few that remain. Volume III is $50.
As always, signed giclée (high quality) prints are available in two sizes, 13 x 19 and 17 x 22 inches at $150 and $195 respectively. These (plus any Volume I books) have to be shipped from Canada and that slows things down a fair bit, so please don't delay if they are of interest. The other books are shipped from the US, so not as critical. Stocking stuffers are easily solved for iPad (only) owners. Our interactive eBook "One in a Thousand" costs only $9 and comes with hundreds of images, video and music to support the (true) story. You can buy or gift it at the iTunes Store or get an overview of it here.
May I also remind you that just a few days remain to submit images to Susie Smith for TI Life's annual photo contest. We're hoping you'll help us raise the bar again this year by submitting great images that celebrate our favorite place. Think of them as we do - A Christmas gift to the community.
For those of you who can get the Canadian Cottage Life TV channel, you may want to tune in to My Retreat on Tuesdays - December 2nd, 9th, 16th and January 6th at 10:00 PM EST. Last summer, with help from Thousand Islands Helicopters, Lyne and I were pleased to help arrange for producer Barb Margetts to shoot three segments of My Retreat at friends' River islands - Honey Bee (in the Rift), Alcatraz (the little island next to the 1000 Islands Parkway with the arched bridge), Shanty (near Grenadier - wait until you see what's gone on there!) and finally Raleigh, our (One in a Thousand) island.
The December 2nd show will feature our island; December 9th - Janice and Mich Laprade's Honey Bee, the 16th - Chris and Fred Guild's Alcatraz with January 6th being Joe Brennan and Danny Greenglass' Shanty Island. Repeats will air the week following. Look for episodes #8, 9, 10 & 11, each of which will feature one of our Thousand Islands along with cottages from elsewhere.
A word on France. Lyne and I are deeply enamored with that country, so much so that we bought a tiny 500-year-old "pied à terre" in the south of France which is available (very affordably) for rental when we aren't there. If you think this might be of interest, check it out: petitgitedecharme.com. It's not the Thousand Islands, but it is a pretty exceptional area nonetheless.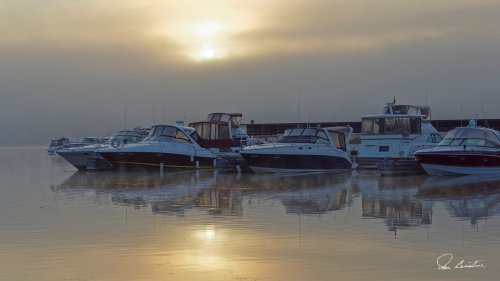 Comments
Thank you for opting for a summer escape. After shoveling 14+ inches of snow and the cold of the past month, this is a warm welcome.
Margaret Carusona posted on: Monday, December 01, 2014
---
This is a great morning picture of boats moored on "D" Dock at Ed Huck Marine. Though not on this dock, we keep our boat at this great marina in the 1000 Islands.
Mike Souliere posted on: Monday, December 01, 2014
---
Great photo Ian, happy holidays.
posted on: Monday, December 01, 2014
---
Thanks for the many photos this year Ian. I checked out the Gite website. A wonderfully crafted site with more great photos. Looks to be another "One in a Thousand." I am passing the link on to potential travelers.
Steve Jarvis, Baie d'Urfé, QC posted on: Saturday, December 06, 2014
---