When I first stumbled across the Thousand Islands during that random but momentous flight back in 1992, one of the first things that struck me, beyond its overall beauty, was the creativity of design of many of the island cottages and boathouses which frequently take advantage of each island's individual geographical and topographical features.
Over the years I've tried to share some of what I've seen via these winter wallpapers in order to provide you a River "hit" durning winter months of withdrawal. These wallpapers now number almost 100, yet none has ever strayed beyond the region.
This month I'm going to break that tradition to share an island (depending on the height of the tide) image that was taken during a recent trip to Brittany. In a region that is rife with stunningly attractive and often ancient stone homes and cottages, Le Gouffre stands out because of the wonderfully creative imagination of its builder.
It's worth mentioning that if you're looking for another exceptional destination, it would be hard to beat France. Paris must not be missed, but after its somewhat hectic pace, Brittany offers a unique and pastoral setting to unwind in a maritime corner of the country. I took a lot of pictures there, but this posting is not a place I can share them. If you'd like to explore a little more, I posted several albums on my Facebook page, which will give you a better understanding of the place.
If Brittany appeals to you, even more worth knowing, Honey Bee (in the Rift) islanders Janice and Michael Laprade own a charming and historic village home in tiny Langoat, virtually across the street from the village bakery that provides sumptuously fresh croissants, chocolatines and baguettes for breakfast every morning. Better yet, they offer their (4-bedroom) home very reasonably when they're elsewhere (from June-January). It couldn't be more ideally situated to enjoy all of Brittany's charms and along with their insights and tips, will ensure you get the most out of any time spent there.
So as not to totally ignore the River this month, I'd like to bring your attention to a project that I think promises to do more good for our region than any that has gone before. My plane and 12 intensive years of aerial photography was the ultimate means of discovering all that is here, but with over 200 square miles of islands and thousands of miles of coastline, it is absolutely no surprise that most are unaware of much of it. Collectively however, the region's finest assets add up to a unique and important region internationally, like Provence or Tuscany, if only it all could be presented together in a cohesive way.
McLellan Group, the ridiculously talented team of tech wizards who created our groundbreaking (other's description, not mine) iPad eBook "One in a Thousand," spearheaded an initiative called RiverQuest that promises to present the best of our region to the world in conjunction with the new 1000 Islands discovery centre Aquatarium which is nearing completion in Brockville. I think you'll find the RiverQuest website to be a very useful resource to help you and your friends get a better understanding of all the quality to be found here. When it's completed, the Aquatarium will be a physical showcase for the region in much the same way.
Enjoy,
Ian Coristine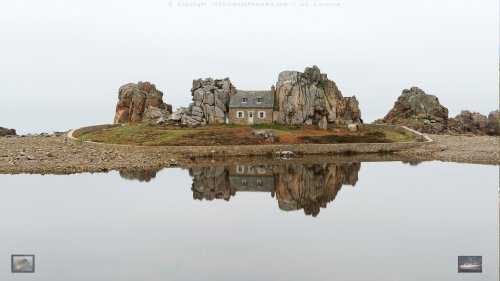 Comments
Intriguing!! Maybe this is where the expression 'Between a rock and a hard place' began?
Georgia Barker posted on: Tuesday, April 01, 2014
---
What an AMAZING picture! Of course the first thing that came to mind was: "He is like a man building a house, who dug deep and laid the foundation on the rock. And when the flood arose, the stream beat vehemently against that house, and could not shake it, for it was founded on the rock" (Luke 6:48).
Patty Mondore posted on: Tuesday, April 01, 2014
---