Fellow 1000 Islanders,
I thought last month's scene would have stumped everyone. It didn't.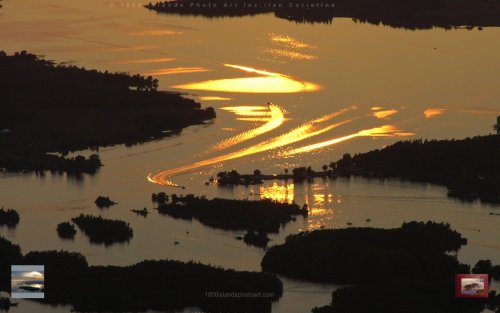 A surprising number quickly identified it and submitted enough worthy descriptions to make picking a winner a real challenge. In the end, Scott Ritson gets the nod for his caption:
If this picture is what I think it is, your perspective is pretty tricky. It looks like Sheriff Point, at the eastern opening to the Bateau Channel between the Canadian mainland and the east end of Howe Island. The reason I think so is because I think the long, narrow point is pretty unique in all the Thousand Islands. I'm guessing the ferry docks for the Howe Island ferry are inconspicuous because of the angle, lighting and height--hence my comment about your tricky perspective. They would be a dead give-away, if they were more obvious. I've been through this passage many times, including a memorable sailing race from the Kingston Yacht Club to the Clayton Yacht Club in the 1960s, when we were hit with a line squall just as we cleared the point--with our spinnakers set! There were a few "death-rolls", and I'm sure we left a very surprised and relieved ferry captain behind as we barely avoided an unintended tack, which could have put us right in his path! More recently, my experiences here are more mundane. It seems the OPP likes to "lurk" just behind the point, and it seems every time I go through here, they stop me to do a safety inspection. The last time they stopped me, I had quite a few people aboard, so the officer asked me how many life jackets I had. I said, without hesitation, "eighteen" (for some reason I'd just counted them!) She was quite impressed, and said; "well, you certainly seem to know your craft--enjoy your day!" My son still teases me about that--being such a "type-A personality" that I'd know exactly how many life jackets I had on board!
Many thanks Scott. A set of six Thousand Islands prints is on its way to you as is another to the writer of the best caption for this view:
I'd like to share with you a site that I think will be of considerable interest to all Thousand Islanders, that is being developed by my friend Paul Malo. Paul as I'm sure you know, is the author of a trilogy of books about Thousand Islands history.
We've often discussed the fact that the area would benefit from a quality publication similar to Adirondack Life or Down East magazines, but due to its seasonal nature, probably couldn't easily support one. To Paul's immense credit, he has stopped dreaming about what might be and is directing his energies towards building www.thousandislandslife.com, which will grow into something of an online equivalent.
This is a completely non-commercial venture, created simply because Paul genuinely cares, covering the entire region. It is intended primarily as a resource for people who live and summer here rather than the usual chamber of commerce promotion aimed at transient tourists.
In Paul's words; "We see 'Thousand Islands Life' as a way of creating a more coherent identity for the large region, from Kingston and Cape Vincent to Morristown and Brockville. We hope to expand appreciation for the resources we share, to encourage fuller utilization by all of us. By citing models of excellence, we hope to 'raise the bar,' encouraging quality development that respects our distinctive character while enhancing life here. In particular, we want to commend those who maintain historic facilities and conserve the natural qualities that contribute to our unique character."
Enjoy!
Ian Coristine