With winter in full song, I thought this month I'd share an image I took last spring with the River in full song. I was later than usual opening the island as we had just returned from France. This is what greeted me that first evening, May 4th.
Our cottage was built 102 years ago and is about the farthest thing possible from a bunker. It's more like a sieve. I've spent a few sleepless nights over the years with the noise of the wind whistling through cracks making sleep impossible. I've felt the cottage shuddering in the wind perched atop a few stone pilings, taking solace in the fact it has been doing this for a century and has probably seen worse.
This image was taken at dusk through the kitchen window. In order to keep the camera still enough to shoot in low light, I was bracing the lens against the glass. The camera kept poking me in the eye as the window's glass flexed in the blow! Those who were on the River that night will remember that there was no rain beyond a horizontal layer of spray blown from the whitecaps. It was wind only, but that didn't make it any less impressive.
I also have shots of a couple of other memorable moments, though not good enough to share. One shows the waves blown into round rollers, no whitecaps, with a small tree a blur as the branches were thrashed. Within seconds the wind had switched from a wild westerly to an even wilder northerly, all over and done in a minute. One of our stately pines barely survived as its roots were stretched out of cracks in the rock, but somehow it held. Others on shore were snapped like twigs. A small tornado, and I'm quite certain that my shot was taken in the middle of it.
Another blow left me a large offering in the night. I could see a light through rain and spray washed windows and thought a ship had left the shipping channel and was heading for the island. Going out for a better look, I realized there was good and bad news. The good was that it wasn't a ship coming from across the River. The bad was that it was a 2-story houseboat and it was running aground a few feet from the cottage right now.
The Pruses, who were owners/stewards of the island before handing the baton to me, spoke of rowing to the island after work one day in 1954. It's not far and the water is fairly sheltered on the shore side of the island. They didn't make it, their boat capsized in the waves forcing them to swim for their lives - Hurricane Hazel. These events aren't frequent, but they are memorable. I'm hoping you'll share some of your memories below.
Happy New Year!
Ian Coristine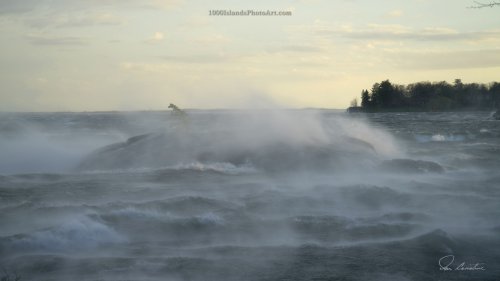 P.S. We have a cozy cottage for sale on the River at the mouth of Jones Creek. If you have an interest in it or know someone who might, email me for a 16-page PDF that will give detailed information.
We also have an exquisite little getaway in Provence, France available for vacation rentals. If you'd like to explore it and that corner of France, (it's just as compelling as the River, but in a very different way), there are many images on the "What's Nearby" page. Keep clicking on "Show More" to see all. If you'd like to explore the Jones Creek area, click here.
At the risk of making this seem like a classified, but knowing it will find a happy home on the River, I will mention we also have a low hours 2005 Rinker 232 Captiva Cuddy for sale with trailer. Please email me for details.
Cottage for sale on the river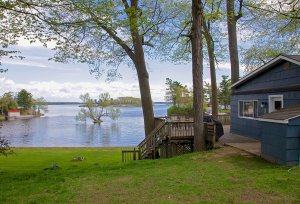 Vacation rental in Provence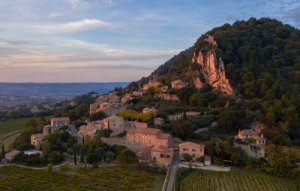 ---