I have always been drawn to this wonderfully photogenic grouping of islands in Chippewa Bay. I've made a point of photographing them in a wide variety of conditions and light, but this shot came by chance when I was out flying with a friend in his own Challenger. One minute I was just off his wingtip, the next I was gone when I suddenly saw the sun beaming through a hole in the overcast for just a few moments, spotlighting these islands like the jewels they are.
This shot illustrates the magic of what I've always thought of as "the privileged view", low from above. The islands' alignment, carved by glaciers many thousands of years ago becomes immediately apparent from above where the next shoreline isn't hiding the view beyond.
Bill Johnson of Mexico, NY, immediately recognized the scene and shared this recollection:
"I believe the picture is overlooking Bluff Island and Oliver Island in Chippewa Bay. My memory of this location goes back to the early 70s.
It was in June of l970 when I first heard about the great pike fishing on the St. Lawrence River. I was 19 at the time, and I decided to buy my first boat and give fishing on the St. Lawrence a try! All I could afford was a $50 beat-up canoe that I purchased from the Monroe County Parks Department. I loaded my canoe on top of my VW MicroBus and headed towards the St. Lawrence. I ended up at Chippewa Bay where I pulled off onto a dirt road to set up camp, somewhere not far from Chippewa Point.
For the next two days, I paddled the area casting red and white daredevils. Being only 19, I assumed that I would be eating Northerns each day, so, the only other food I brought with me was instant potatoes, oil for frying the fish, pancake mix for batter, and of course, lots of beer.
It wasn't until the third day, around sunset, that I finally landed a monster 3-foot Northern. In order to land the fish I had to paddle a short distance to shore, get out of the canoe and reel the fish to shallow water and kick him up on shore. I was pretty unprepared. I took it back to the bus and immediately fried it up for myself and some other people who were camping nearby. We had a great time drinking beer and consuming the entire fish!
Upon returning to Rochester, I immediately developed the pictures of my trophy Northern. I took the picture to a local tackle shop to put it on the wall. The owner, while looking at the picture, started laughing and informed me that the fish I ate was not a Northern, but rather a Musky!
The experience had such a lasting affect on me, that a couple of years later I purchased a real fishing boat, got my Captain's license, and became a successful Charter Captain on Lake Ontario!
In 2001 we bought a home on Little Round Island. We normally arrive shortly after ice goes out and stay till the 2nd week in November. After moving to the Islands I sold our fishing boat (Coastal 3300) and let my Captain's License expire. Marilyn at Corbin's told us of your site. It keeps us going through the winter."
Bill Johnson, Mexico, NY
Many thanks Bill for a great story. A set of prints is on its way as it will be to the person who shares the best tale also reveals the location of January's image.
Happy New Year,
Ian Coristine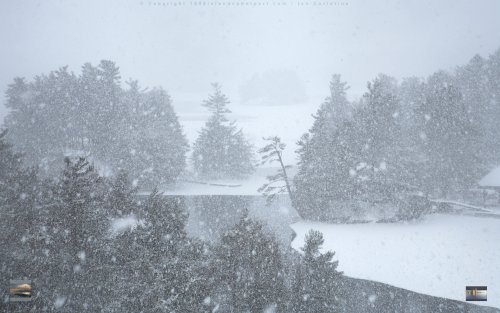 Comments
Hi from Florida. The December wallpaper appears to be looking toward the village of Chippewa with Bluff Island in the foreground. We are new to the river, but just this year fished many evenings in the waters behind Bluff from here. There is a little cut between the two separate islands with the house extending over the cut. We took our kayak through there when the water was high this last spring. Our cottage is on the right behind Chippewa point.We look forward to your info about the area and especially the Fernbank webcam.Mike and Sandy Harris
Mike & Sandy Harris posted on: Saturday, December 27, 2008
---
My mind may be playing tricks on me but is the screensaver a picture looking East of the North end of Chippewa bay? The cottage in the foreground is Bluff Island which is joined together by 2 small homes and an enclosed walkway. Since the unique roof is not easily visible as it has a unique sail like look, I cannot be sure. My wife Margie and my place is off to the left in Sand Bay which is inside small and big Chippewa Point. Since my wife Margie and I purchased our cottage on Little Chippewa Point last fall, we have been exploring the Northeast end of Chippewa by kayak. Here are some of our recollections. Margie and I (the Harts) purchased our summer place on Sand Bay on the inside of Little Chippewa Point in the Fall of 2007. The weather was too cold to do any exploring by water so we stuck to hiking and met our neighbors on Chippewa Point Road and Blind Bay as we made our way across the causeway over Blind Bay and through the oaks going out to the point. We knew that water exploring would be fun so we started to look for kayaks for the Spring of 2008. Much to our surprise on "Black Friday" the day after the American Thanksgiving, I opened the Dicks Sporting Goods advertisement in the local Rochester fish wrapper (Democrat and Chronicle) and noticed that kayaks were on sale for $199 - a great buy. We purchased 2 of the 10 foot models, loaded them into our minivan, stored them in our garage, and stared at them for the next 5 months wishing we were on the river.Spring came and with no fanfare, we slid our docks into the water (second week of April), launched the kayaks and started to explore Chippewa. The first things we noticed was how much more detail and texture the River offered; we could see unusual underwater features, big and small rock formations, our neighbors' docks and shorelines from a different perspective. We also met several of our near and far neighbors as we kayaked by them or them by us. Steve and Lynn from Philadelphia PA and Hammond Point happened by our dock one day as they paddled over to Blind Bay. We struck up a conversation and suggested that we would stop by their place later in the summer. As we wandered there a few weekends later, Steve explained some of the history of their summer home, including the long row of underwater rocks and submerged timbers which are the remnants of boathouses that date back to the early 1900's - stuff you don't easily see from a moving boat. My brother Steve and his wife Meg, have a home on Chippewa Bay facing the inside Oak Island.Steve is an avid kayaker who you will find most weekend mornings circumnavigating Oak with his coffee mug, hat and a smile. We have met a couple of times for a morning paddle and recently poked around Cedar Island and Temagami. Here we saw placid marshlands, elaborate boathouses, Remington's studio, submerged cribs from earlier docks, shoal waters, windward facing massive shoreline bullheads, and lots of big and small homes.Now that we have our sea legs, you can bet that we will venture further into Chippewa in 2009 and will explore Bluff Island - shown in the picture - and several of the small islands nearby. Steve and Lynn told us that one of the Islands is great for swimming as the water is deep, the shoreline easy to access, and there are great places to spread a towel.I am guessing that you know Del and Mary Hamilton of Blind Bay and Frank and Aida Menapace of Little Chippewa. At any rate, Frank, Del and I are working on a project to study and analyze restoring Blind Bay to its condition prior to the causeway road being constructed in early 1962-1963. There was a study done 10 years ago by a Clarkson University graduate student that looked at restoring the marsh water flow that has been cut off for all these years. As I reread the study recently, one of the missing provable written facts is a "legitimate" map showing that the bay was open at one time. The study sites an 1800's rendered map showing Chippewa Point as "Bluff Island" - oh no, not another bluff Island- and a 1958 USGS map showing some marsh formation and no water flow. We do have a first person account from a resident - the name escapes me - that her cottage was built and the wood and materials were barged from Blind Bay marina through the marsh by water.I have talked to the USGS office and have another more detailed 1958 map coming to me, but do you know of any other sources that might show Blind Bay from earlier in the 1900's?Best regards, John Hart
John Hart posted on: Tuesday, December 30, 2008
---
As a property owner and former resident I can't tell you how much I enjoy receiving the screensavers and getting the on-line magazine each month. I own the house across from Chimney Island that sits up on the hill. I have the big stone pillars in front and just rebuilt the house a few years ago. I have owned that property for 20 years and was married in the side yard. We now live in Hong Kong but manage to still spend a month or so each summer as well as a few other trips during the year back on the Parkway. We look forward to the day we can come back to what we believe is the best view on the river but until then we use your photos both in your books and the internet to keep us connected. Thank you again for your effort as it is much appreciated. I hope to meet you someday. Best regards, Ed Boyd
Ed Boyd posted on: Tuesday, December 30, 2008
---
I think the front three islands are Bluff, Lone Tree and Elm Islands followed by Snakeoil and Willy Island taken from the direction of Superior Shoal. Check out our new boat at www.turbinemarine.com/video_AQM_KW.html It's not quite a Bimmer but close. They are usually a blur when we go by. Thanks for the great photos...Bill and Brenda Abrams
Bill and Brenda Abrams posted on: Saturday, December 27, 2008
---
This looks like an area I have fished many times looking southeast into Chippewa Bay. I have spent many summers on Butts Island and would "slip" across the border to fish this area many times on long day trips with friends. Can't believe I remember that area after so many years!  I remember taking several trips there from Butts Island on the Canadian side to fish.  One morning in early summer me and a friend started out early to get in a bit of fishing between painting houses for our summer jobs.  We drifted around the small islands in Chippewa Bay and caught several large bass on the way to work.  On the way out in our small Whaler in the early morning we were dressed for skiing with winter jackets and ski hats (summer on The River).  I remember the small islands well and we navigated the area cautiously.  Look forward to heading back that way this summer.Best Regards,Tim Kiernan
Tim Kiernan posted on: Saturday, December 27, 2008
---
We all recognize that a great continental glacier once advanced over our beloved 1000 Islands region, but we may not all agree how the islands were scoured, carved, polished, and aligned. The islands depicted in the December Wallpaper are a glaciated grouping in the Chippewa Bay area. I once debated the reason for the general northeast to southwest alignment of most of the islands, such as those depicted in Ian's photo, with the late and great 1000 Islander, Paul Malo. Whereas I felt the alignment was due to the directional movement of the ice, Paul, along with fellow 1000 Islands author Don Ross, argued that an existing alignment of the former mountain chain could have been responsible for the path the ice followed as it ground, gouged, scoured and polished ever so slowly along. Regardless of how the path was chosen by the advancing ice and how the islands were shaped, all agree the ice was at least a kilometre thick over the landscape and retreated such a relatively short time ago (some 12,500 years ago). I think we would all be absolutely shocked at the first glimpse of the exposed smooth domes of rock and mud when the glacier began its retreat. The uncovered dome of granite just outside the OLG 1000 Islands Casino in Gananoque is a true example of how smoothly polished the hidden granite really is where it has not been exposed to thousands of years of weathering. Time in the 1000 Islands would fill in the advancement of diverse vegetation and wildlife, much of which we still enjoy today. For this small collection of Chippewa Bay islands however, low profile and limited soil would limit the amount of vegetative cover. The result would be one of Ian's favourite photogenic island groupings. Bud AndressHill Island, ON
Bud Andress posted on: Saturday, December 27, 2008
---
This is the north end of Chippewa Bay. The island in the front, with the bridge, is one of my wife's and my favorites from the boat. We think it is a great outpost to enjoy the traffic on the Seaway. I used to go through these islands in the winter (about 60 mph) on my snow machine. It leads to Chippewa Creek and on to Hammond and Black Lake. When I lived in the Bay in the late 70's I would often end a long high speed run on the river near Little Hammond Point and prepare for the overland trail to Black Lake out there. Walt SchoenHomer, NY & Westminster Park
Walt Schoen posted on: Saturday, December 27, 2008
---
Thanks to my good friend Bob Diegl of Round Island, I was informed of your website and then was sent the link. My wife Linda and I purchased Club island on Blind Bay in the summer of '08 and are now restoring the cottage. Blind Bay should be opened up again to any water that used to flow from Chippewa Bay. I can't believe the DEC did not demand that there be some sort of culverts or a bridge under the roadway leading to Chippewa Point. What a mistake. Blind Bay is one of the most beautiful little places around the 1000 islands. We have great protection for our boat and our camp, with very easy access to the main channel. Our neighbor to the rear of us; Blind Bay Marina, (Bob and Mandy Schultz), are the best and have taken a great interest in preserving Blind Bay. I for one, along with my wife, are committed to a life at the islands. With over 30 years of great times on Round Island and TI park, life would not be the same if we did not have the River to call our home during the summer months. We would be more than interested in taking part in any group or organization that is working towards the return of the water flow to the southern end of Blind Bay. How lucky we all are to be able to enjoy the River. What a wonderful place to spend so much of your life. We are the first island in the bay off the main channel and would welcome any of you to stop by at any time for a drink and some conversation about the river or what we can do to enhance the character of Blind Bay. Matt Beck Buffalo, NY and Club Island, Blind Bay, NY
Matt Beck posted on: Monday, January 05, 2009
---
I think that this picture is so cool and cosy..i like the winter and thank you for posting such a nice picture. Best wishes.. Siba El Ayoubi..from the beloved Lebanon..
siba el ayoubi posted on: Tuesday, April 05, 2011
---