While I figured November's scene would prove elusive and didn't, December's was one I was fairly sure would be easy to recognize, particularly as it included a "down bound" ship passing Singer Castle in the distance, yet only two people picked up on those clues to identify it as the foot of Grenadier Island. This is the Grenadier that reaches downstream on the Canadian side from Rockport to Mallorytown Landing, not the similarly named island in Lake Ontario not far from Tibbetts Point.
The surprise is that there are several Grenadier Islanders on this list and none of them recognized it.  It simply goes to show how very different the aerial perspective of a familiar place can be, which is one of the reasons I felt compelled to produce my books in the first place.  With only two correct answers, both sharing somewhat different information, I thought I'd include excerpts from each while awarding both a set of prints.
Last month's image:
From Steve Beste of Springfield, VA:
"Though I've never been in those particular coves, this looks like the downstream end of Grenadier. In the late 1950s, there was an active farm near where this picture was taken. Heffernan's, was their name. In those years, they turned their place into a restaurant. You could pile your whole family into a large boat and "go to Heffernan's for dinner", something done as a treat, once or twice a summer. It was always chicken with all the trimmings, a feast so grand that it drew the envy of your friends who weren't there. Nobody troubled themselves with checking through Customs in those days. Indeed, the fact that Heffernan's was way over there in Canada on one of those misty isles where the line squalls come from - this only made the trip more special and grand."
And from Bob Lozo of Victor, NY:
"December's screensaver image appears to overlook the foot of Grenadier Island. Off in the distance is Grape (or Grass) island with the marsh to the left of it. A bit further downriver is Corn Island, with Dark Island to the right. Grape is owned by a prominent Alexandria Bay family and has been in their family for 4 generations. It is used primarily as a sportsman's cabin, with the marsh offering terrific water fowl hunting, and also as a launching point for fishing excursions. I'm told that Corn and Grape are two rather rare islands in that their formation is largely loose rock and stone rather than granite-based. And as the story goes, Corn Island was used in part by Frederick Bourne (and his daughter) to store alcohol during prohibition, since Dark Island sits in U.S. waters and Corn Island in Canadian."
A reply prompted by this posting worth sharing comes from Round Island's Dick Withington:
"About Heffernan's, I recall about 1958, there was an incident. As the story goes, Mr. Heffernan was taking the waitress home after closing. This apparently was not unusual, especially if the weather was bad. While he was gone someone came in and robbed Mrs. Heffernan of the evening's receipts. As you know, the Heffernan's and their chicken dinners were revered. Word got back to Alex Bay of the incident, and about 4 AM a small flotilla left A Bay to set things right. Apparently, by sunrise, justice had been done. I never heard of any official authorities even being notified. Life was a little different on the River in those days."
This from Del Hamilton of Blind Bay was delayed because of a death in the family and then computer issues, so arrived a month late, but is still well worth sharing:
"The photo was taken above the foot of Grenadier Island looking toward Singer Castle. My story from this area is about nature revealed. I had just made the annual run in my boat from home in Blind Bay on the New York side of the channel to Mallorytown to purchase my Canadian fishing license. On the way back I stopped where the shallow flats drop off into deeper water, very close to the Provincial Park docks. I put on a big shiner and let it drop to the bottom. At the same time, a mother duck with six tiny ducklings paddled right up to the boat without fear. It was obvious that they wanted a snack, so I shared my trail mix with them. Just as we were getting acquainted, my fishing pole almost went over the side of the boat and the fight was on. I could tell that it was a big fish as it pulled line out as fast as I tried to reel it in. Meanwhile the ducks, knowing that I was a soft touch, pressed closer to my boat for more trail mix. I started to shoo the ducks away as the fish was suddenly rocketing to the surface of the river which was occupied by the duck family. When the approximately 30" northern pike jumped out of the water, the babies ran on top of the water to the nearest island. The mother however, flew up about 6 feet in the air and came down on the pike's head and proceeded to bite down and shake it like a rag doll, then flew off to her babies. After I finished reeling in and measuring the fish, I released him thinking he had had a pretty rough day. Believe it or not, as he swam out of sight, the ducklings were swimming back out to the boat for more trail mix, with a reluctant  mother following."
 I have to add that one of my great regrets is that I didn't "discover" the Thousand Islands until well after Heffernan's had served their last meal. Thanks to Parks Canada, the building still stands and I have often enjoyed a peaceful picnic on its porch, imagining how much better heaping platters of fried chicken would have tasted. 
For this month let's see how you make out with this scene:
A set of 6 prints awaits the correct location and best story about this area.
Happy New Year!
Ian Coristine
P.S. Paul Malo has been hard at work on the next edition of Thousand Island's Life (.com) Magazine with a number of new articles about our favorite place. Look for it around mid month.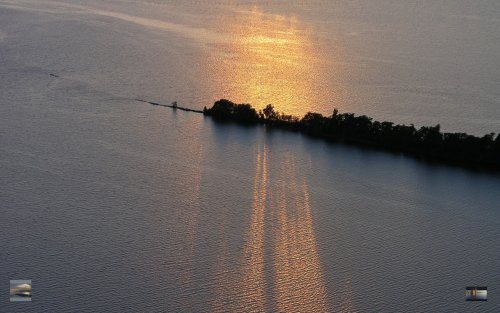 Comments
I was looking thru your Wallpaper Images, and apparently, I didn`t read this one - about Grenadier - and Heffernan`s. My family used to eat at their restaurant, for years. I can remember those wonderful chicken dinners, but also all the fresh vegetables that Geordie (spelling - ??), and Myrtle grew on their farm there. We would climb on a wagon and Geordie would run the tractor to pull the wagon, and we would go to their farm, to pick corn, and tomatoes, and other vegetables, while Myrtle and her helpers would cook the chicken. They made their own butter, too. They are wonderful memories of that place - wish it was around today!!
Sally L`Huillier posted on: Tuesday, November 01, 2011
---