Spring has sprung! And as the ice slips out of the River, I thought it appropriate to share a shot of Toniata Island from last year. This little island sits in the middle of a pretty bay at the mouth of Jones Creek right in front of our shore cottage.
And it wasn't always there. The story is a fascinating one, shared with me by the previous owner of our property who had summered there since he was a child. The story was from the War of 1812 and it came from his grandfather who understood it to be fact, which is possible as it had ended less than a century before.
Apparently, a naval ship was sailing upstream against the current with whatever wind was at hand. It was British, heading to Kingston with money to pay the soldiers. When a US ship spotted it, the chase was on, but in a real sense, in slow motion as the speed differential would not have been much, so making up a few miles might take hours.
The British ship realized it would eventually be overtaken, so rather than risk losing the payroll, they briefly dodged out of sight into the bay at Jones Creek and threw a chest overboard, planning on returning later to retrieve it. Who knows how the rest of the chase played out, but what concerns our story is that they were never able to find the chest.
It's easy to believe as Jones Creek and a couple of extensive tributaries, all now part of the National Park, have left the bay's bottom layered in silt. We have two metal posts which locate the end of our dock that keep requiring extensions as they continue to sink. They are currently 28 feet long.
So in 1908, grandfather decided to use his family's savings to rent a barge and a dredge. Careful not to drop silt where he had already explored, it was piled into a mound in the middle of the bay, eventually breaking the surface. He never did find the chest, but a willow branch floating out of the creek found the mound of soil and rooted. Thus Toniata Island (with it's tree to make it official) came into being, named after the Indian Village that Father Simon Lemoyne found here in 1654. The bay is naturally beautiful, but Toniata Island is its crowning jewel.
Enjoy!
Ian Coristine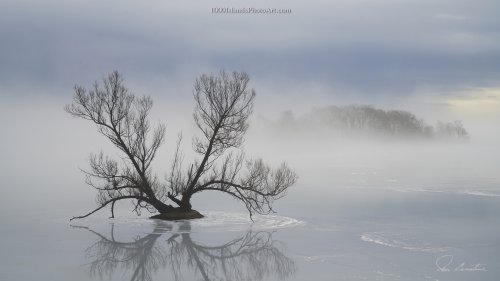 P.S. We have a cozy cottage for sale on the River at the mouth of Jones Creek. If you have an interest in it or know someone who might, email me for a 16-page PDF that will give detailed information.
We also have an exquisite little getaway in Provence, France available for vacation rentals. If you'd like to explore it and that corner of France, (it's just as compelling as the River, but in a very different way), there are many images on the "What's Nearby" page. Keep clicking on "Show More" to see all. If you'd like to explore the Jones Creek area, click here.
At the risk of making this seem like a classified, but knowing it will find a happy home on the River, I will mention we also have a low hours 2005 Rinker 232 Captiva Cuddy for sale with trailer. Please email me for details.
Cottage for sale on the river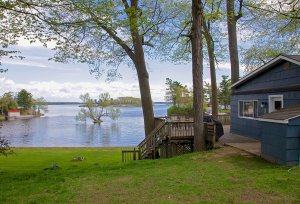 Vacation rental in Provence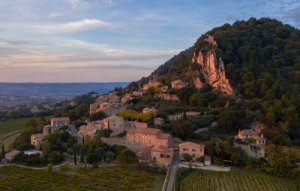 ---