Last month's image opened the floodgates with many great stories making for an agonizing decision over the choice of which to feature. Please know that in a very real sense there were several winners, but in the end, this one by Fritz Shantz stood out by a whisker. Please be sure to check the other comments for more great reminiscences.


Boy, am I familiar with that area. It was literally my backyard for some part of nearly every summer of my 56 years. Your photo shows a large portion of the Summerland Group, located between Rockport, Ontario, on the Canadian side, and Goose Bay on the American side.
The head of Sport Island is in the lower left, with the bridge going to Little Lehigh on the right. Across the top of the photo are the boathouses of Ina, Sunnyside, and Idlewild. The Ina boathouse is now well-known for its state of near collapse, and, based on the condition of the boathouse in your photo, I am guessing that you took this photo about 4 or 5 years ago.
My family's place is on Summerland, the head of which is just visible in the upper left, across the tiny cut from Ina. My great-grandfather, Frank Hawley, was one of the original summer people who spent the summers of the late 1800's in tents on Summerland before they carved up the side facing the main channel into lots for cottages and left the back of the island as common property, owned collectively by all of the island property owners. I was told as a boy that they used to keep the Summerland Island cow on Ina so that it wouldn't get into the tents.
Ina was later bought by the Hagans, who were from Rochester, New York. My mother, who was from Nassau, Bahamas, was visiting Sue Hagan in the 1930's, and Sue set her up with a blind date – my Dad - who arrived in his brand new Hutchinson utility, "Deuces Wild." At the end of the evening, however, my Dad did a switch: he dropped my mom off at Ina and then took Sue for a moonlight cruise! My Mom never let him forget that little faux pas. But my Dad later proposed to my mother on the seawall at Ina, and, happily for my brother and sister and I, she forgave him and accepted. She always recalled the dances that were held in the large ballroom over the now-collapsing boathouse.

  Sue Hagan later married Godfrey Higgs, a Bahamian barrister who won considerable acclaim for successfully defending Alfred de Marigny. In 1943, De Marigny was accused of murdering his father-in-law, Sir Harry Oakes, a wealthy Canadian who lived in Nassau. Sue and Godfrey Higgs later bought Lotus Island, which is shown in the very top right of the photo. I remember them coming up with their two sons from Nassau to spend summers on the River in the 1960's.
The almost-bare rock between Ina and Lotus is called Elephant Back. The story was that, despite the somewhat grand appearance of the house on Ina, the dress code was "casual." One guest who refused to abide by this rule was said to have been ignominiously kidnapped one night and marooned on Elephant Back until the following morning. He learned his lesson.
Sport is well-known and written up in Paul Malo's "Fools' Paradise." Sunnyside, or Hadassah, is directly below Elephant Back in your photo, and has a beautiful house that faces the Seaway through the channel between Elephant Back and Ina.

  I could go on. But thanks very much for your photograph.
Fritz Shantz, Latham, NY
Thank you Fritz and all of you for your submissions. It is these personal stories of the River that make these postings interesting and worthwhile. All of us appreciate your sharing them.
I will remind you that two evenings celebrating the River through images from my forthcoming book and great music are coming quickly which I hope to see you at. Both will feature concerts by who have become passionate supporters of our islands and recently added a Canadian Juno nomination to many other honors for their album Lost Channels which they partially recorded here. Both events will be held in exquisitely restored historic theaters, one on each side of the River.
Tickets for Brockville's June 4th event are available on a first come, first served basis only from the evening's host (please email ticket requests to: TallShips@Fuller.ca).  Tall Ships Landing is an exceptional condominium project being built on Brockville's waterfront. Its coming boat-accessible restaurant, boutique hotel, marina and Maritime Discovery Center of the 1000 Islands will be a place you'll be wanting to visit. Tickets for Clayton's event on June 26th, a feature event of Clayton's River festival are available from the Clayton Opera House.
More details can be found here.

For this month I'll share with you a scene I was thrilled to capture, likely the most historically relevant image I'll ever shoot on the River. As always, I'll look forward to the stories you might share about it.

Enjoy!

Ian Coristine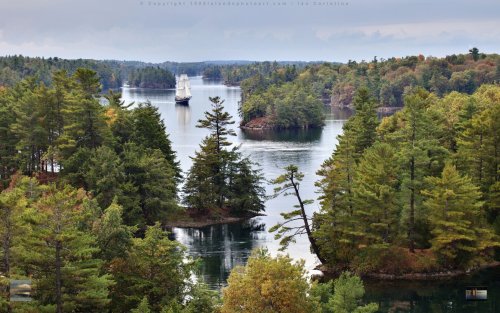 Comments
I am really looking forward to your new book. I am sure it will be spectacular! A little sad to hear that you have sold your plane though....This month's wallpaper is an aerial view of the Summerland group, with the long-standing iron bridge connecting Little Lehigh (on the right and currently for sale at $1.4M) to Sport Island (on the left). The protected cove is an increasingly popular anchorage for day sailors such as me.The island in the upper left corner of the photo is Ina Island (currently for sale at $2,995,000), and has a huge boathouse that is slowly being claimed by the river. When I first visited the area about seven years ago, the structure was showing signs of significant decay. Each year since then I marvel at how this once grand showpiece is slowly losing its battle against the elements and ravages of time. Some of the first floor windows were almost completely under water this past summer. It's sad to watch really, like an antelope losing its life to a lion, but still struggling on...The island in the center is Sunnyside, and the island on the upper right with the small white boathouse is Idlewilde, which I was fortunate to visit a few years ago when it was offered as a rental.Great shot. Looking forward to the summer...
Todd Jones posted on: Tuesday, March 23, 2010
---
In the upper left hand corner is Ina Island, identified by its oversized boathouse that is slowly sinking in to the river. This island is currently for sale and my hope is that it would be purchased and the boathouse saved. It was quite a party palace in its heyday. The whole is part of the Summerland Group which I have always just loved the name. What a dream it would be to live in a place called Summerland. This photo must have been taken later on in the season as you can see how far the water has dropped on the shoreline already.
Jocelyn Merritt, Alexandria Bay, NY posted on: Tuesday, March 23, 2010
---
March; ~ Ina Island in the background, My Dad and Neighbor Robert E. Peach of Manhattan Is. would go there in the 60's for " Martinis "although it offered more than Martinis in those days, the rooms above the boathouse were for the " working girls." The island is for sale, and presently maintained by Frank Vargo of Alex Bay, who is related to the now deceased owner. The bridge in the foreground, from Sport Island to Little Lehigh is of railroad design construction, as the Wilbur family of Pittsburgh, Pa. owned these islands, the Little Lehigh house was for the servants that came for the summer. It was a vacation of sorts for them, to be out of the hot and humid temps of Pittsburg. Every Monday morning the servants were set out in a row on the north end of the island with scissors in hand to cut the lawn, it pretty much took all week to get that job done. The island is now owned by Jim Cumming of Atlanta, Georgia. The island in the center is Sunnyside and owned by Jack Butts, who is presently attending Oswego State Univ. The house is furnished with Antique Stickley Furniture. The area behind Summerland Island is a popular rafting area for boats small and large, and for overnight anchorage, as it's protected from all sides. ~~ Shipping Channel opens March 25th.
Steve Carhart Little Steamboat Island, NY posted on: Tuesday, March 23, 2010
---
In the background I see Ina Island, currently owned by the Fulmers of Allentown PA. You may recall that I met you on the shore of this island a number of years ago when you were preparing the proofs and obtaining clearances for the publication of your first book. Regrettably, the boathouse, which was an icon of design and structure has fallen into significant disrepair. Its timbers, as they float away actually pose a hazzard to boating. I recently met a retired airman, in Florida, who had fond memories of enjoyable R and R's spent at Ina Island years ago when he was stationed in Rome NY. He and his friends would travel to Alexandria Bay, NY and take the the Ina Island water taxi to the parties and dances which were held in the second story of the boat house. There was a beautiful hardwood dance floor as large as a basket ball court and they danced to a live band. I am sure that those timbers that are floating down the river have some amazing and spicy stories to tell. In the early nineties, the Fulmers had a nursery prepared for my twin granddaughters. As the years went by, the girls and my grandson had their own bedrooms. This was easy to do as there were 18 bedroom and 17 bathrooms. The floors, walls and the ceiling were beautiful tongue and grove natural wood.Your February wallpaper was enjoyed as well. Stirred our thoughts of "Home" and the scene out of our living room windows.
Harry Johnston, Mallorytown, ON posted on: Tuesday, March 23, 2010
---
We're in Florida for the winter anxiously awaiting spring then summer so we can get back to our cottage on Pillar Point on Lake Ontario. The thought of "our" 1000 Islands visits only makes it even more to look forward to. We enjoy your site so much and look for it each month. I'm so glad to hear you're going to publish another book - we have all of them so far - and my coffee table is getting smaller with collections of the Islands!!Just for the record, Dr. Withington is the son of our "old family Doctor" back in the 40's. Wonderful man. Thanks again for keeping us thinking of summer even though the Islands are so beautiful in the winter months.
Rita M. Phillipson, Pillar Point posted on: Tuesday, March 23, 2010
---
Great picture of part of Sport Island and Little Lehigh.  We are planning a Wilbur reunion in September. More about that later.
Warren Wilbur III posted on: Tuesday, March 23, 2010
---
The Wallpaper this month is great! This is right by where we live. So exciting!
Carter Arnot posted on: Tuesday, March 23, 2010
---
While I know the area and the islands, I am responding to say thanks for the monthly entertainment and reminder of what a beautiful part of the world we all enjoy. Your March photograph is truly representative of many of the 1000 Islands and while I hope your responders will concentrate on the islands in the foreground, I would just like to express my feelings regarding the upper left background. Ina Island has a rather unique history and is certainly a beautiful island with a very impressive and stately house. Unfortunately, the island's boathouse (also a unique structure with a rich history) has been ignored and not maintained by the owners and is falling into the river. An eyesore, potentially a hazard to navigation as it disintegrates, and what must be the major blot on the beauty of the 1000 Islands is getting uglier each year. Too bad the owners did not have the foresight to sell the island and boathouse years back when the boat house was salvageable. Makes you wonder if they are maintaining the house!
Teddy McNally, Chicago, IL posted on: Tuesday, March 23, 2010
---
Great photo of Little Lehigh and Sport Island. My wife Wendy loves to row through these islands on windy mornings when the main channel is rough. Lots of history here. As I understand it, Little Lehigh and Sport were owned by Asa Packer the head of Bethlehem Steel and the founder of Lehigh University. I bet the bridge is Bethlehem Steel or maybe it is early enough to be made of iron. Bethlehem Steel was once the second largest steel producer on the world and created great wealth for men like Packer. Times change and now the bridge is unusable. It is hard to believe the company that produced the steel for the George Washington bridge and the battleship Missouri is now a rusting skeleton like the bridge. (Ian's note: George, you're correct about a connection to Bethlehem Steel because I understand they built the bridge, but it's my understanding from an unpublished book Paul Malo gave me about Sport Island that Asa Packer's business was the Lehigh Valley Railroad, not Bethlehem Steel.)
George Textor, Seattle, WA posted on: Tuesday, March 23, 2010
---
This is absolutely beautiful!! I have never had the opportunity as yet to visit this beautiful place, therefore when I see these beautiful pictures, it makes me more and more to want to go very soon!! Thank you so much for the awesome e-mails, they are such a joy!
Sonja C. Delaney posted on: Tuesday, March 23, 2010
---
Ina Island with the humongous boathouse sitting perhaps lower and lower on it's footings looks a little like middle age paunch. As a teenager on the river in the fifties any party worked. Ina Island for a while set up as a restaurant/club or some such which I always thought a cool idea: island based fun. Second floor was basketball court sized then. Well we had a 'boathouse' on Axeman, too. NOT. Abrupt confrontation with reality if I thought grandparents might consider going public. But drawn from the Edgewood in the Bay we spent at least one night down there partying like island parties should be - on an island. Great good luck with the two events, Ian. Hope to make at least one.
Jack Patterson, Axeman Island posted on: Tuesday, March 23, 2010
---
About 8 years ago, the summer before I was off to graduate school for Architecture, I had a day off and thought I would just explore the islands and photograph some of the great houses in the area. I packed a cooler with lunch and a 6-pack of Labatt's into my 13-foot Boston Whaler and headed out for adventure!Leaving from Thousand Island Park I made my way down the American Narrows driving slowly along the shore of Wellesley. I made my way by Pullman Island, Boldt Castle, Sunken Rock Light and Manhattan Island. I then headed to Deer Island, which has always fascinated me with its history of Skull & Bones! From there it was up to the U.S. side of Summerland Island. The Summerland Group was something I hadn't really explored closely and there are many beautiful old houses on these islands so I began snapping some photos. I continued along Arcadia and Sylvan islands and then decided to swing around and head toward Rockport because I wanted to cut over to the Canadian side and photograph that beautiful house on Tar island with all the great totem poles. As I rounded the foot of Sylvan and headed for Rockport I saw what I consider the most amazing bridge in the Thousand Islands and I was looking at exactly the same view you are in this photo, although from the perspective of a Boston Whaler.I was mesmerized and took my little boat right underneath this marvel. The bridge looks to be made of riveted steel and is spanning about 150 feet between these once privately owned islands, Little Lehigh on the left and Sport island on the right. When one drives underneath it, you cannot escape imagining that you are Indiana Jones in the Temple of Doom as the wood slats that make up the walking surface are few and far between and mostly rotted away leaving only the structure. The curve is so elegant and the arch so beautiful that this is truly a gem from the past that ought to be restored.Upon traveling underneath the great footbridge I noticed the amazing boathouse on Ina Island in the upper left corner of your photograph. This is also an architectural gem from the past in need of proper restoration. It is a little difficult to notice in your photo, but the front left cribs are sinking desperately into the St. Lawrence.I had no idea how spectacular the Summerland Group truly was, but I was surprised and forever intrigued by this group of islands.
Jonathan Taylor posted on: Tuesday, March 23, 2010
---
A partial view of the Summerland Group: a tip of Summerland Is., Ina Is, "Elephant Rock", Lotus Is.Lower part of picture is Sport Is. with the old bridge to "Little Sport Is", upriver is Sunnyside Is. & to the right Idlewild Is.From '63-'94 (weekend & vacations) We boated & fished the area. Channel side of "Elephant Rock" was great for northern pike, bass in front of Lotus Is.P.S. We started our River experiences at Kring Pt S. P., then Wagoners Marina (end of Dingman Pt. Rd.), now at Blind Bay near Clayton.
Larry Wendler posted on: Tuesday, March 23, 2010
---
Looks like a Great picture of the bridge between Little Lehigh and Sport Islands. Thanks for sharing your great work.
Matt Doheny posted on: Tuesday, March 23, 2010
---
Every time I see that boathouse on Ina Island dying 6" at a time every summer I just want to cry. I almost feel that there should be some kind of "River Lovers Police" that comes along and if you let one of the few remaining showpieces fall into the River they should force you to sell it to someone who can afford it. I don't care if your great great grandfather did own it. He could afford it, you can't, get over it and get out of the way. As any Indian can tell you, ownership is really just an illusion, we are all just caretakers on the River and lucky to have that opportunity for a brief period of time. As my mother used to say, "Beggars rider their horse 'till it drops."
Michael Joyce, Ft Lauderdale FL posted on: Tuesday, March 23, 2010
---
Thanks Ian. Another beautiful shot of a beautiful part of the world.
Alan Smith, Australia posted on: Tuesday, March 23, 2010
---
Ruth and I figure you are looking west with Little Lehigh in the foreground and Ina to the southwest with the broken down boathouse, that no doubt has some interesting stories tucked away in it's rafters. Definitely have to visit this area more next summer.
Dave Fownes posted on: Tuesday, March 23, 2010
---
Your photos from both the website and albums have brought to my attention how many of the scenes I have taken for granted over the years. This month's photo, I believe shows the backside of the Summerland Group looking over Sport Island. My first encounter of this area was over 50 years ago as a teen fishing in the spring for pike with my dad. It presented a sheltered area for bobber fishing and staying warm on those chilly and windy days. It continued to be a favorite spot for years to come leaving me with fond memories of time spent with my Dad and later with my boys. Now I only get to the river in the fall to fish but always make a special trip thru the area keeping tabs of the magnificent boathouse behind Summerland Island knowing that someday it too will be just another fond river memory.
Richard Sage, Cape Coral, FL posted on: Tuesday, March 23, 2010
---
What a familiar place. I spent my childhood being pulled behind an aluminum boat with a 15 horse kicker around these islands and under the bridge! What wonderful memories of my favorite place!! This is the Summerland Group, with the photo concentrating on Sport Island and it's neighbors, Idlewild, Summerland and Ina whose boathouse is slowly sinking into the river. This photo must have been taken a couple of years ago, because Ina's boathouse (which used to have a ballroom upstairs when it was owned in the early twentieth century by the Hagen family) has disappeared even more than what your picture shows. You also included Sunnyside and Little Lehigh, and a upriver corner of Arcadia Is.  Actually, if you count our grandchildren, our family is the sixth generation of Summerland Islanders.  Our families, both past and present, have been coming to Summerland since around the 1880's.  I remember my great aunt telling stories of how her mother and grandmother came to the river, first by horse and buggy, and later by train.  My first visit to the island was at the ripe old age of 6 months and as I grew older, I always sympathized with my mother who was having to press the clothes with the old 'hot irons' that were heated on the stove, and wash my brothers' diapers in the river.  We never had electricity until around 1973, and, with kerosine lamps as our means of light, we were drilled and grilled about the fire hazards of living on an island with no fire department! I admired my mother for her summers with us kids at Summerland.  Dad was working in Rochester during the week and would travel by car each weekend to be with us.  (Back then there was no high-speed I-81.)  Mom would run the 26' Hutchison to and from the Bay regularly and in windy weather, we kids would take bets on which side of the boathouse she would cream before making it back into the slip!  Back then, Summerland boasted 9 other cottages that were inhabited throughout the summer. All of us youngsters, of whom there were many, spent the days playing kick-the-can in the Grove, water skiing behind a little aluminum boat with a 15 hp kicker, and swimming marathons that circumvented Summerland.  With no electricity--much less TV--we would gather at one of the cottages each Monday night to listen to a battery-powered radio as our favorite disc jockey spun the top 50 hits for our pleasure. Fishing was always a favorite pastime, not only for the kids on the island, but the adults as well.  Excellent bass or pike fishing was at our front door--in deep water just a few feet from the shoreline on the main channel.  Even today, that's where the best fishing is in the area. Today, having passed retirement, I still enjoy reminiscing those golden years of my youth, and never tire of looking forward to my first sighting of Summerland in the new year.  This is a wonderful way to cure the withdrawal syndrome for winter! Thanks for giving my memory a little jump start for 2010!
Alison Albury Alison & Peter Albury, Bahamas posted on: Tuesday, March 23, 2010
---
The larger island in the foreground is Sport Island, with the footbridge leading to the owner's home on the right. Continuing counter-clockwise are Idelwild, Sunnyside, and Ina, with the huge boathouse, itself a sagging marvel of grand and dignified decline, and just barely seen, the tip of Summerland, the biggest island in the Summerland Group, which is a kind of last outpost as one heads downriver to the open channel past Whiskey Shoal. My first trips to the TI consisted of many hours cruising around this group, or anchored in the sheltering lagoon they protect. One adventure was diving down to free my anchor from a power cable it had snagged; I had visions of knocking out the power to those beautiful homes. Idlewild, with its grand home on a wooded hill, is especially dramatic. It's a beautiful spot -- thanks for the challenge!
Jim O'Connor, Chippewa Bay posted on: Tuesday, March 23, 2010
---
You'll get lots of takers on the Summerland Group looking south. In the late '50's I was employed by Glen Furness at Hutchinson's in Alex Bay. One day I contracted with Mr. George Gerhardt to cut some dead limbs out of a tree on either Sport or Little Lehigh Island; I don't recall which. I hitchhiked to Sackets Harbor to get my equipment and got a ride to the island with George Junior. I cut some limbs from a tree that looks to be the one at the north end of the footbridge. I recall that he paid me $25 dollars for the effort. I think both of us thought it to be too much. I doubt if they remember it as fondly as I do. I also recall the Brodersons. I think they were on Lotus Is. Too bad the Ina Island boat house couldn't be saved! Great picture. Hope to see you at the Opera House.
Dick Withington, Round Island, NY posted on: Tuesday, March 23, 2010
---
Every month I look forward to your wallpaper scenes- always hoping my area of The River may be featured. My dream has come true this month!!! You have exquisitely photographed The Summerland Group. The islands are: Sport, Little Lehigh, Idlewild, Sunnyside, and Ina. To the left of Ina is the queen of the group: Summerland. My grandchildren are the 8th generation to call "Cliff Cottage," on Summerland, "home." Thank you Ian for such a beautiful picture. I am more homesick than ever for The River!
Genie Arnot Flinn posted on: Tuesday, March 23, 2010
---
This is the bridge between Sport and Little Lehigh Islands, in the Summerland Group. Ina is in the upper left of the picture. This picture must be a few years old, because the Ina boathouse has sunk a lot more since it was taken.The picture highlights the natural beauty and tranquility of the "back channel' between Summerland and Sport, especially in the fall. By contrast, on summer weekends it is filled with "rafters," and you can almost walk from one island to the other across all the boats. It's the new Lake of the Isles, unfortunately.Our family has been on Summerland for seven generations. Your picture this month was a huge hit, and caused a barrage of emails back and forth amongst us. (My mother even reported that she cried when she saw it!) Thank you for the pictures you circulate every month. We all love them, and they keep us all longing for next summer to get here!
Chris Lord posted on: Tuesday, March 23, 2010
---
This is probably the first time I've been able to identify the location of one of your photos. You'd think that in 40+ years of visiting the 1000 Islands I would be more familiar with the entire area, but that is not the case. This is probably because almost all of my time has been spent within the portion of the Summerland Group shown in your photo.My family and I have been part owners of Idlewild Island (shown in the upper right) to increasing degrees since 1966. That is the year my parents bought the island with 3 other families. Over the years, the other original families have moved on and another was added, and the kids from the 60s now have their own kids who are themselves enjoying this area. While the people have changed, the picture looks like it could have been taken anytime in the past 40 years. The give away is the degree to which the boat houses have sunk. It looks to me like you took the photo about 5 or 6 years ago before we raised our boathouse, put it on steel pilings and replaced the dock, and before the Ina Island boathouse (upper left) really started its sad slide to the bottom.As a kid, swimming from our dock to the bridge between Sport and Little Lehigh Islands, inching up the side to the middle and jumping off was a right of passage. It isn't all that high of a jump (I found out the hard way that you can't even sail a Sunfish under the bridge), but it seemed like a huge deal to a 12 year old.The protected water shown between the islands we called the "lagoon". It always provided a nice calm area for water skiing even on windy days when it was choppy elsewhere on the river. Perhaps that's why in recent years our lagoon has filled with anchored and rafted boats every summer weekend day and now even on the weekdays. This has curtailed activities like sailing, water skiing, and skinny-dipping. And, all of the anchors being pulled up have wreaked havoc on the islands' telephone service (which arrives via underwater cable). Luckily for us and the boaters, nobody has yet managed to break the thicker high voltage underwater electric cables that lead from the mainland to the transformers on the islands. However, we can't begrudge the boaters who have discovered one of the most beautiful spots to enjoy a summer day in the 1000 Islands. The stories associated with your photo are innumerable. Just my stories of fish, wildlife, weather, strange and funny events, annual traditions, foolish stunts, mishaps, and near catastrophes on and around these islands would go on and on. I've been lucky enough to get to know quite a few of the other island owners in the Summerland Island Group - an extremely interesting group of great neighbors and most have themselves collected years of stories of these islands many of which they could share (but perhaps not in a public forum).Thanks for the email. It arrived just in time to send around to and inspire the group of about 12 good friends who help me open the island up every spring.
Adam Burke posted on: Tuesday, March 23, 2010
---
This picture is easy for me as all but the two islands in the foreground are visible from the house I grew up in on Dingman Point on the New York mainland, and from the dock on the river where I had a gas pump for boats in the early sixties to help with expenses at St. Lawrence University.The islands in the foreground are Little Lehigh on the right, about a 100 yards from the Canadian border further to the right, connected by the bridge to Sport Island on the left. Directly beyond Little Lehigh is Idlewild Island, owned by a family named Noble when I was a teenager, and to the left of Idlewild is Sunnyside (or Hadassah).To the left of Sunnyside is Ina Island (the island with the broken-down boathouse, as my granddaughter says). Ina Island was run as a restaurant in the early sixties by a group of businessmen from Syracuse, and guests were picked up in the "Monitor", an open 38-foot boat built by Hutchinson's boat works in Alexandria Bay (my grandfather, Lewis J. Estes, a river captain and boatbuilder, worked on this boat), from either Alexandria Bay or from my gas dock. My fraternity at St. Lawrence rented the whole island for a day in September 1963, and I think that weekend alone made the season a huge success for the owners. Just slightly down river from Ina, we see the start of the head of Summerland Island, one of the few islands on the river, for its size, to be subdivided into independent plots with different owners and different types of houses.Looking beyond Sunnyside we see "elephant back rock" aptly named as it looks like an elephant bathing in the river. Beyond elephant rock slightly to the right is Lotus Island, which has a stone house facing the seaway channel to the left, in front of which was a good bass fishing spot in August where my father, Bill Estes, and I spent many hours fishing. Just to the right of Lotus Island is Douglas Island.Finally, at the top edge of the picture toward the left and across the seaway channel we see part of Resort Island, which was originally named Pioneer Island. There was a multi-story house on the island prior to the 1940s when the island was purchased by Herman Fineberg of Syracuse. My grandfather and father both worked on the remodeling of the house to the present one-story structure. Subsequently, my maternal grandparents worked as caretakers on the island in the late forties. The island was purchased by Rev. Dr. L. Wilson Kilgore in 1960 and his family still owns the island today. I spent many hours as a teenager mowing the grass on this island, which took 3 and half hours to complete, and my summer "friends" took great delight in water skiing round and round the island while I was working!Thanks Ian for providing this glimpse of home as I start thinking even more about heading east from California for the summer on Dingman Point.
Jim Estes posted on: Tuesday, March 23, 2010
---
This is the best one yet!!
John Buzyniski posted on: Tuesday, March 23, 2010
---
I love when I can report on the architecture in the Thousand Islands and your last photo of Sport Island on the Northern end of the Summerland Group instantly jogged my memory. It is a little known fact that this well shaped bridge was erected in 1934 as a scale model for the International Bridge Competition for the future design of the first span of the T.I Bridge. To my knowlege there is only one other bridge on the river that was entered in the bridge competition and still survives and that is one nearby Zavikon Island. Obviously, the wooden compression and tension members did not impress the judges but one must admit that either of the bridges would indeed look fine spanning the channel if any of this was true. April fools!
Trey Gregory posted on: Wednesday, March 31, 2010
---
Nice work burning in the sky. Any special Photoshop technique? Response from Ian: Actually Frank, it's a technique known as HDR - High Dynamic Resolution which I find can do interesting things with certain images and conditions. We could settle for deep shadows and blown highlights, but our eye sees so much more than that so why shouldn't the print?From Frank: Ah, you've learned HDR, eh? I'm using Photoshop Elements 4, which doesn't have that ability. (But I'm OK with that). BTW, I have a large, yet carefully selected library of photo coffeetable books. Wind, Water & Sky is definitely among my most cherished volumes. My own Thousand Islands moment: I had fun standing on the Thousand Islands Bridge, tripod set up on the tiny pedestrian walkway, photographing the islands -- when the vibrations from trucks racing by just a few feet behind me finally subsided. Keep up your photography; I always enjoy your work.
posted on: Thursday, April 01, 2010
---
Looks nearly as good as Charleston Lake Islands, I canoed over last week around the islands, skirting flows of ice, to get to the south end of Buck Island. Saw masses of ducks, loons and geese and also my favorate foursome of otters. Apparently the ice is gone now so boat traffic disturb the piece and quietness.
Rick Wilson posted on: Thursday, April 01, 2010
---
Well, shiver me timbers! A beautiful narrative on the Summerland Group penned by my old school chum (and devoted River Rat) Fritz! I'd have laid odds that his submission would edge out the others, particularly on this topic. Nice work, Mr. Schantz!
Wayne Strauss posted on: Thursday, April 01, 2010
---
Thank you for the latest Wallpaper. Your photography is awesome.
Catharine Van Sickle posted on: Thursday, April 01, 2010
---
Thank you it is just beautiful.
Jim Hendler posted on: Thursday, April 01, 2010
---
Hi Ian, Sir Harry's son - Harry Oakes, Nassau - was my best customer for 25 years before he retired from boating and kept me from falling off the face of the earth many times in my career. Mike
Michael Joyce, Hargrave Yachts, Ft Lauderdale, FL posted on: Thursday, April 01, 2010
---
Hi, My family vacationed many years in the islands and visited Idlewild in the 70's. My Dad knew a relative of one of the owners, and it was beautiful! I thought Idlewild was owned originally by the Packers of Jim Thorpe? If you ever get to Jim Thorpe PA. tour the Packer Mansion and the town is great! We still fish and boat in the islands. Great site!
Mark Shomgard posted on: Friday, April 02, 2010
---
Finally took the snowy river picture off of my computer and downloaded the latest photo as my background. LOVE it! I have 2 extra-large monitors in my office and when I walk in it feels like wall-to-wall River. Sweet! On to River Season -- Thank you for sharing.
Maria Holtmann posted on: Friday, April 02, 2010
---
Thats a beautiful shot. I can smell the river air and feel the breeze of the water. Thanks Ian
Lori posted on: Saturday, April 03, 2010
---
A LOT OF INTERESTING OBSERVATION OF YOUR WALLPAPER OF THE SUMMERLAND GROUP. HAVING LIVED ON SPORT ISLAND FOR TWENTY FIVE YEARS AND OWNED LEHIGH FOR SEVERAL YEARS IN THE 50'S I CAN MAKE A FEW CORRECTIONS, THE BRIDGE WAS INDEED BUILT BY THE BETHLEHEM IRON CO (EVENTUALLY BETHLEHEM STEEL). CONSTRUCTED IN THE WINTER AROUND 1890 AND RIVETED IN PLACE . WHEN I I WAS A YOUNG GUY ABOUT 90 YEARS AGO THE CRIB USED TO ERECT THE BRIDGE WAS VISIBLE FROM THE WALKWAY. LEHIGH WAS STRICTLY FOR SINGLE GUYS. THE SERVANTS QUARTERS WERE ON THE THIRD FLOOR OF THE MAIN COTTAGE ON SPORT.
posted on: Monday, April 05, 2010
---
This is the ship the "Mist of Avelon" coming east from Ivy Lea towards the north side of Georgina Island, I think, the picture was probably taken from the Thousand Island Bridge. Since our current summer home is on Hill Island, we have the pleasure of seeing this ship coming and going often enroute to Halifax. Many years ago, we had the opportunity of seeing the ship as it was being refurbished and watching the progress towards what it is to-day. I think this same picture has been a Wallpaper before but taken in the winter. We enjoy all the pictures no matter how many times they may be repeated and will miss the air shots when you, Ian, no long have your plane. Thank you for every one of your pictures. N. J. McAdie
Nora Jean McAdie posted on: Thursday, July 23, 2015
---
I have enjoyed viewing Ian's photos for quite some time, but have always remained a spectator. That is, until April's photo was posted. This sure looks like our family's Summer backyard. The ship may well be that of the British warship just prior to lowering a boat and crew with orders to warn others of French and indian attackers. The mysteriouis lost boat of The Lost Channel. Perhaps it is one of those ghostly effects that only Ian's camera lens can see, but is invisable to a mere mortals eye.The island in the background to the south(left) is Needle Island, one of two islands where we Summer. The other island, Palm Island, is just west and behind Needle Island. The narrow opening between Needle Island and Hill Island is the Needle's Eye.This is one of my favorite veiws of The Islands, and one that I recall during our family's first visit to the area. This beauty of the River & Islands brought about a love affair at first sight. Several years ago(probably many years ago) New York State ran a tourist promotion advertising supplement in the New York Times. On the front cover was a full page, full color view of the Islands taken from approximately the same position as this month's wallpaper, but with a wide angle lens. The heading on the cover stated (What else?), "I Love New York". Even with the wide angle lens , you could see nothing but Canadian Islands. Thanks for this and all your wonderful photos that warm the heart during the Winter. We will return very soon to enjoy The River again firsthand!! Bill KauffmanPS - My wife says I'm wrong! She can't see the house of seven gables!!
Bill Kauffman posted on: Thursday, July 23, 2015
---
The subject of this great photo is the tall ship the Faire Jeanne navigating the waters slightly west of the lost channel. The smallest island in the Thousand Islands, Tom Thumb, is just about off the starboard bow of the ship. Immediately up the river from the photographer to the North is the areacalled the whirlpool channel and it is home to some of the swiftest water on the river.From what I have read by Kim Lunman I would gather that this tall ship might have a crew of Great Lake Swimmers aboard! Maybe even they are even playing the tune " Lost Channels "? I can't wait to see more photos and hear the music live this summer at :Lost Channels 
an evening with Great Lake Swimmers and Ian Coristine 
Saturday, June 26, 2010 at 7:30 pmThanks again Ian the great river images and getting this great group to the river.I know it's called the Lost Channel but we are all not lost.Trey, Sandy and Jacque Gregory
Trey Gregory posted on: Thursday, July 23, 2015
---
Ah, The Lost Channel! For me, it is the most serene place in the world. Tucked away from the main Canadian Channel, this placid place is situated in front of Hill Island, and laps at the shores of Georgina, Constance, Trois Iles, and even the infamous Tom Thumb island. I have spent more time in this channel than any other area of the St. Lawrence River. As a child, I gravitated toward this stretch of The River because of the swirling eddies which provided an always-smooth surface for my youthful passion of waterskiing. In my teen years these same eddies provided the perfect habitat for Walleye fishing which I engaged in at night trolling. I distinctly remember upon catching these Walleye, because I was always alone, I ended up with a pole in one hand, a net in the other, and a spotlighyt wedged between my thighs! Georgina Island has also been a part of my life, as I have picniced there and even jumped from the granite walls that line the Canadian Park Island. These days, I slowly and meander through the calm Lost Channel waters on my PWC and feel any stress that I have leave my body, as I reflect on my past years spent there as well as simply take in the beauty that still exists and digest what it means to me today. The very rare Pitch Pine tree also resides on Georgina Island, and just last year a controlled burn was conducted on the island in order to regenerate the forest community that has dwindled due to human fire suppression. The Lost Channel is also home to a Naval boat carrying 14 men that vanished near Georgina Island in 1760. Fast forward to 2009 and you will find a beautiful music video on Youtube featuring the Toronto based folk band The Great Lakes Swimmers entitled "Palmistry", filmed aboard the tall ship Fair Jeane. The sight for the video was suggested by our very own Ian Coristine who contacted the band feeling that it would be a wonderful fit for their music. Tony Dekker, the lead singer of The Great Lakes Swimmers was so taken by the beauty of the area, he chose to name their lalbum "The Lost Channels".
Dean Evans posted on: Thursday, July 23, 2015
---
Ahhh, You just have to know that as we sit here in Lake Placid Fl... we dream of the river and all the years at Jorstat Castle, you being a big part of that,,, your pics always bring a great deal of peace to us... hope to see you this summer..
Rev. Harvey B Jones and Flo posted on: Sunday, February 10, 2013
---
That's a beautiful shot.
B. Dalui posted on: Wednesday, September 08, 2010
---
I went to the wallpaper and started reading and found this site and this beautiful picture of the Summerland Group. Summerland Island is where my kids are sixth generation and Fritz Shantz who won the contest for this month is a relative of mine. We used to swim from Summerland to Sport Island. I am so excited to have the Islands back in my life again and then I find your wonderful picture and these stories to keep us close to the River during the winter months. Thanks you so much for all your talent and sharing it with the Islanders.I probably haven't seen Fritz Shantz in 15 years but I am going to get in touch with him.Liz Hanford Aldridge
Liz Hanford Aldridge posted on: Tuesday, January 04, 2011
---
I was thrilled to see the Summerland Group photo. My girls are 6th generation on Summerland, a relative being a Universalist Minister who settled in this area many years ago. We are finally Islanders once again after being sailors for the last 25 years and have purchased property between Cape Vincent and Clayton. I also spent about seven summers with my childhood friend on Round Island. My parents rented the Hawley cottage in spring and fall for about 27 years. My cousin Allen Hanford whose father owned the Hawley cottage for a short time is now in the process of buying the Smith cottage which was owned at one time by his grandmother. I have wonderful memories from this area. We used to swim between Summerland and Sport Island. I remember a 100th Reunion on Summerland as a child. This web site and this newsletter is a wonderful way to get us through these cold winter months. I am looking forward to making connections with relatives on Summerland after a way too long separation. Thank you Ian, for your contributions.
Liz Hanford Aldridge posted on: Tuesday, January 04, 2011
---
Just wanted to comment. In the early 80's I lived on 'Sport Island' for 2 summers. From Florida, my dad was the 'caretaker' for a lady who owned Sport Island named Annette Baker who also lived in Fla. We drove from Fla. to Alexandria Bay. Boated to the island and we kids had 'Adventures' while the grown ups worked and cooked. I remember people actually renting out some of the homes/cottages. I LOVE to remember all the FISHING, SWIMMING in that coooold water, and looking for ROUND BOTTOM BOTTLES!! If anyone knows of the Island now and who owns it pleeeaaase comment back:)
Minde Dunne posted on: Monday, March 21, 2011
---
My family rented the Cook House from I believe Mrs. Baker, who by then was a widow. She shared her husband did well in business and she was renovated the homes one by one for rental. The Cook House was a quaint room above the kitchen and the larger brown cedar shake shingled home was across the yard. At that time, she had just redone a "Honeymoon" cottage which had lovely furnishings and appointments. There was a larger home with a beautiful porch done in mahogany wood. On Thursday evenings all residing on the island had to share a pot luck supper and contribute a dish enough to feed six families. Our kids had the best time fishing, swimming and singing with the other children. By then Mrs. Baker was up in age so I am unsure who manages the place now. We summered there in 1994 and the rental for the week was $1000. We parked our car across the bay at the gas station and rented a boat and using the shoal map provided navigated our way there. Initially, I admit, that first boat ride with a 3 & 5 year old made me question my own level of intelligence as those shoals are quite easy to locate with the bottom of your boat! In the end, I learned to navigate even as the large freighters passed me by on the St. Lawrence. What an adventure in an idyllic setting.
Jackie Vita posted on: Tuesday, February 28, 2012
---
What memories you have stirred. My husband and I spent vacations on Sport Island in the early 80s when we lived in the Albany, NY, area. The owner was (is?) Annette Baker, a widow from Florida with an exciting past including politics in Florida. She and her son were renovating the various buildings on the island and offering weekly rentals. In her first year of rentals, we stayed in the single-floor Cook House and rented a boat for the week. The next year, we stayed two weeks in the Boat House. I recall there was also a Playhouse that Annette's son used, the caretaker's "cottage" (a 3-floor large house), an Ice House, and the main house (an even larger and once-elegant 3-floor home) where Annette lived. I remember her afternoon "tea" with all the island's guests. My husband and I enjoyed our conversations with Annette, and she gave us the tour of the main house and told us stories about the island in the early 1900s. We returned for additional weekend stays helping with the addition of the second floor of the Cook House and the re-installation of the now-electric/formerly gas brass chandeliers in the main house. We tried to keep in touch with Annette and years later - after our move to southern California - I learned that Annette was living with her sister in Rancho Bernardo. We met one day for a totally enjoyable lunch. Unfortunately, I have lost touch with her, but still love the memories of Sport Island and Annette. She was one of a kind.
Shirley Kondek posted on: Tuesday, March 12, 2013
---
Asa Packer and his business associates (many of whom were related by blood or marriage) were major shareholders in the early history of Bethlehem Iron beginning around 1860. Bethlehem Iron became Bethlehem Steel near the turn of the century, with Asa Packer's grandson Robert Packer Linderman as president before selling to Charles Schwab, a Carnegie protege in the early 1900's. These business associates were allied families that intermarried; the Packers, Wilburs, Sayres, and Lindermans. Sport, Little Lehigh, and Idlewild were originally owned by Harry, Mary, and Robert Packer respectively, they being children of Asa Packer.
Steve posted on: Thursday, July 23, 2015
---