Unfortunately, our new web site's comments section was not working for the first few days after last month's image was posted, so I don't know if anyone was able to correctly identify the scene. It's Oliver Island in Chippewa Bay. I've always loved Oliver's flagged pines, which are iconic and fairly common on the River, while far less so elsewhere on more protected lakes.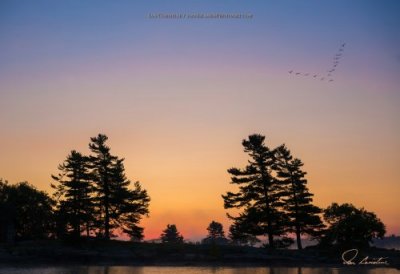 For those of us who know and love the River, there are many unique aspects common here, but seldom seen elsewhere. Pitch pines, Canada's rarest, trees growing from cracks in the rock with no apparent source of nourishment, orange lichen, whalebacks of smooth granite, spong, the whispy green seaweed which prospers at high water each summer, then bleaches blonde as water drops in the fall. These, and more are details that make the 1000 Islands so unique and beautiful.
Such is the case with this month's scene. I've photographed it countless times and in all seasons. I was initially drawn to this scene because it is iconically 1000 Islands, right down to the pine reaching out to the light, just as the first growth forest did in William Bartlett's famous print from the early 1800s.
This spot appeared in my first book, published in 2002. Later, while shooting subsequently in both winter and spring, I noticed footsteps in the snow and road sand leading to this precise spot. So I know others have photographed it too, though I'd like to think I was the first. It's a beautiful scene and on this afternoon last fall, the sun cast a golden glow beyond a sheet of cloud, like light at the end of the tunnel.
If you know where it is, please share in the comments below along with any stories it may provoke.
Enjoy!
Ian Coristine
P.S. As last month, I'll mention that we have a couple of vacation rentals available, one on the River, the other in France. However, our French home is about to go up for sale as we are in the midst of finalizing another. I'm sure many people think we must be wealthy to have a place in France, but that couldn't be further from the truth. It actually costs surprisingly little to enjoy a very "rich" lifestyle. Perhaps it's worth explaining the math.
These days, safe investments pay next to nothing, so we parked 115,000 Euro ($120,000 US) in a small, 500-year-old home which we use whenever we wish, then rent it the rest of the time which includes summer when we'd rather be at the island. Summer is prime time in France so the rentals work well.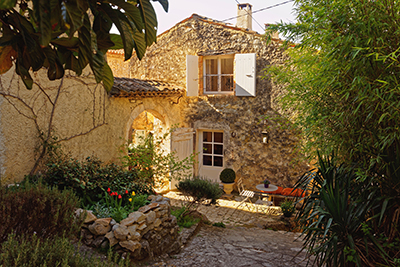 There's little effort required as we have the rental website in place and a wonderful lady who arranges the place between guests. The net income is more than enough to pay the entire overhead, plus our airfare and car rental as well as providing some spending money. A lot better return than what the bank pays and it's pretty unlikely the property will lose value. When it isn't rented, we have the option of offering it as a home exchange and with the south of France being very desirable, we can pick and choose where we want to go, be it Europe, North America or elsewhere. I can't think of any other (safe) investment that provides so much return. It would be fun for you to think that I'm smart enough to figure all this out by myself, but it was our friends the Laprades from Honey Bee Island in the Rift who coached us, as they also do this with a French home. Very pleased to say that it has worked every bit as well for us as it has for them.
Food for thought?
Following a few requests, I've reverted back to providing two formats for this wallpaper. This link is for a normal perspective: Click Here. The link below the image will get you a wide screen version.