Thank you all for the fascinating stories about dealing with fog on the river. A common thread through all of them delivers a very clear message about venturing out in it. DON'T! All these stories are worth reading if you haven't already, making choosing a winner a tough call, particularly as several offered useful advice.
Sue Duclon sings in the fog. It's a lot more pleasing than a foghorn and is far better than silence. Sue March explains that being able to see over a small bank of fog while on shore doesn't mean you won't get totally lost in it. Dennis Durant and Lynda Heberling Wright both have discovered giant steel monsters hidden in the fog. Dan Mossien reminds us that with boats now equipped with GPS, there can be more than shoals to worry about on the water and Jack Patterson explains that watching your wake is the best way to keep you on the straight and narrow.
Paul Reilly's story doesn't share any tips, but it sure paints an interesting picture! I think it's worth sharing again here:
It was our rule of thumb in the tour boats at Rockport not to head over to Boldt Castle if we couldn't see Club Island. There is the long ago tale of Charlie Snider rounding Club Island on the way from Ivy Lea to Boldt Castle in one of the Miss Brockvilles with a full load of passengers and coming into heavy fog as they headed towards the foot of Mary Island. They proceeded at dead slow speed for a while until Charlie suddenly brought the boat to a full stop. The surrounding fog had become somewhat darker and the engines had taken on an deeper resonance. Upon investigation Charlie realized he had brought the boat perfectly into a boathouse slip on Wellesley Island! Although almost lost in the mists of time, so to speak, in my experience, these tales are almost always founded on a kernel of truth.
Paul Reilly
Many thanks Paul. A set of 8 x 10 prints are yours.
I'm thrilled to say that the written book I've been working on for so long with Donna Walsh Inglehart is now taking form as an iPad App. After searching Canada, the U.S., China and India for an app developer who could produce the software with which to bring the story alive, I found a far better solution right on the river!
The connection was serendipitous. When Susie Smith asked for images to share as a Christmas present in TI Life's December issue, I was blown away by Doug McLellan's night shot of the islands. That led to a conversation where I learned that his company, the McLellan Group, specializes in multimedia storytelling.
It turns out that Doug and his wife Caroline are passionate islanders. More to the point, they both believe as I do, that we are on the cusp of a fundamental shift in publishing. They not only are producing our interactive eBook, but see the various ingredients we have available as a way to showcase this new technology.
Thanks to Donna's talent with words, Tony Dekker's generosity with Great Lake Swimmers' instrumental tracks, a large library of images, river sounds, slideshows and video along with Doug and Caroline's multimedia skills, we believe we will be able to tell the story in a vastly richer way than text alone. We're hoping that come summer, possibly spring, we'll be able to share it with you as an App, so don't forget to get that iPad you might have been thinking about!
We all have a part of the river that resonates with us. This is that place for me. With the book's title, "One in a Thousand," I thought I'd show it to you now, in hopes that you'll share thoughts about whichever place on the river resonates with you.
Enjoy!
Ian Coristine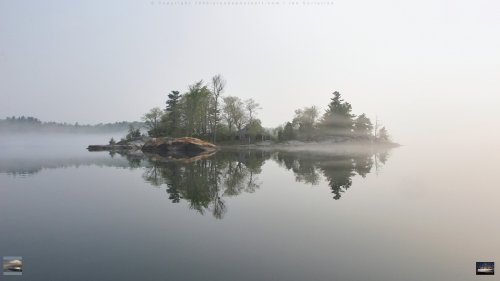 Comments
Ian, I appreciate your passion for the 1000 Islands. I remember introducing you once as a photographer and you rejected this title. Your work is "One in a Thousand" which I greatly appreciate. Don't have an iPad but may have to buy one to enjoy your application. Congratulations on constantly 'seeking'.
Frank Kinsella posted on: Wednesday, February 01, 2012
---
There is nothing more beautiful than the still waters of the St. Lawrence, especially when they reflect one of the islands. This month's picture is wonderful, but I will have to wait till next month to find out where it is. It is nice to be in Florida for the winter and still be able to see the wonders of a Canadian winter in the 1000 Islands.
Ian Stepenson posted on: Wednesday, February 01, 2012
---
I assume this to be your place Ian and our iPad anxiously awaits your new app.The fog stories remind me of a few years ago, when two river rat friends and I ventured back towards the Glen House from ABay, in the wee hours of the morning, thru thick, dark fog. We managed to get as far as Ivy Lea before deciding to call it quits, with so many unseen shoals ahead and no islands visible for reference. We stopped at a vacant boat slip and were met by a local with a shotgun, thinking we were interlopers. Fortunately, he recognized us and called us a cab!
Bill Stallan posted on: Wednesday, February 01, 2012
---
Wow. That glassy river surface makes me want to dive in and swim across the channel. I don't water ski anymore, but the "glass" would've been perfect for that back in the day. I do return to the river and our island every summer (from Florida) and swim around our island daily. It's amazing how fast you can swim when the river is calm (and going with the current!) vs. on those windy, choppy days when you fight to keep your head above the waves to take a breath. Either way, I look forward to those swims and the meditative effect they have on me. I see a bit of fog in your photo, but I'm sure it won't be a factor during a swim on the water's surface. I agree with last month's comment re- fog, that you need to watch your boat wake to stay "straight". However, I recall a boat ride to the mainland in a dense fog as a kid with my family. We realized we were traveling in a big circle and going "nowhere" when we crossed our own boat wake! I finally spotted the little island that is in front of our island, and my father turned the boat so the little island was to our stern. We were then able to drive "straight" back to our island and wait until the fog lifted to try our return to the mainland.
Tammy Preble posted on: Wednesday, February 01, 2012
---
By the way, I just read Donna Walsh Inglehart's book, "Grindstone" and loved it! Looking forward to your interactive ebook! I just read an article about interactive ebooks in the Wall Street Journal. Let us know when we can download your app!!
Tammy Preble posted on: Wednesday, February 01, 2012
---
One more "by the way"....YOUR photo on the cover of "Grindstone" (by Donna Walsh Inglehart) is another beautiful "FOG" photo!
Tammy Preble posted on: Thursday, February 02, 2012
---
What a treat it was when I opened your February Wallpaper image and saw those awesome images of 'Fog on the River'! Thank you so much Ian for sharing your extraordinarily talent with us!
Martin Zonnenberg posted on: Thursday, February 02, 2012
---
Ian, what a terrific picture of the Island. It looks incredibly peaceful and the water, house and shoreline look so inviting! I could use some of that now, it would be a nice change from the tropics!
Dave Vanderbanck, Mauritius posted on: Saturday, February 04, 2012
---
My wife (Julia) and I have long been admirers of your photography and have several of your books. We have a boat at Spicer Marine in Clayton and try to come up as many weekends as we can and like to call the Thousand Islands our second home. Your February wallpaper image brings to mind a time we were staying in the boathouse at Bonnie Castle in May 2005. I took my dog out for her morning walk at 5:30 and found Boldt Castle shrouded in a light fog. Had to take a picture of such a serene image. Thank you for sharing the beauty of the Thousand Islands with us and the rest of the world. It certainly helps us get through the winter.
Dave & Julia Jurena posted on: Wednesday, February 08, 2012
---