A few interesting stories surfaced following last month's image of Sister Island and its lighthouse. As always it's difficult to choose a winner, but I think Susie Wood's which recalls a memorable moment in the River's history is worth spotlighting.
Three Sisters Lighthouse with Third Brother behind and Whale beyond. When I was a kid, the Royal yacht Britannia came through with Queen Elizabeth on board. We flew out from Chippewa Bay to admire the yacht and scout for the Queen. It was a windy day and there was a lot of chop from all of the onlookers. I remember looking over the side of my grandmother's Lyman off the head of Three Sisters to see a shoal "RIGHT THERE." (It is not visible in your photograph.) In the chop we were about to bounce on it, and visions of broken boards and flying splinters filled my head. I hollered and the helmsman roared ahead and avoided disaster. He positioned us on the US side of the channel after that, and we were rewarded with a sighting of the Queen. Much to my delight, the wind blew her skirt up.
Thanks Susie for sharing your memories of what must have been quite an event. We've all seen interesting watercraft on the River, but seeing the Britannia would have been exceptional, particularly with HRH on deck taking in the sights (while providing a few).
If you haven't read the other responses from last month, check back because there were some interesting ones including Mary Alice Snetsinger's. Mary Alice shared an historic photograph of Sister Island which I have no way of posting here, so Susie Smith will publish it in the December issue of TI Life Magazine which will be out on the 15th.
A couple of other notes about Sister Island. It always puzzled me that there seemed to be two names for this island, one of them seemingly used in earlier days, the other more commonly used today. I never understood if or why a change might have taken place.
Several years ago, a pencil sketch of the River drawn by an artist passing through in 1870 was offered for sale on eBay. I was very fortunate to win it. Four island scenes with one titled "The Three Sisters," clearly showed the newly constructed lighthouse on one tiny island, connected to two others via simple wooden bridges.
That prompted me to look carefully at some of my aerial photos which immediately revealed that these gaps had been filled; man-made causeways creating a single island out of three. You'll immediately see this if you look again at last month's image. Thus The Three Sisters became Sister Island. This fascinating historic sketch which also reveals other TI lighthouses no longer in existence will appear in December's TI Life along with Mary Alice's photograph.
Worth relating too, is the story of capturing last month's wallpaper image. Flying home just before sunset after a long foray and very low on fuel, I could see a freighter about five miles away heading my way. I happened to be passing Sister Island and was struck by the similarity of the shapes. I didn't have enough fuel to wait in the air, so landed in the bay at the foot of Grenadier and waited, somewhat impatiently because the sun was very close to setting and the warm light would be gone if the ship didn't get there soon.
Sunset held off just long enough and when the ship finally approached, I launched to get into position. It was critical that I not move in too soon because I wanted them precisely lined up and had no way of hovering. If I got it wrong, there wouldn't be time to do a 360 for a second pass. As soon as I committed, I realized it was too soon, so I banked into a couple of very steep turns trying to mark time in place.
By this time, the post 9/11 hysteria was well underway and I could just imagine the captain on his radio calling Homeland Security, the Coast Guard and who knows who else, reporting an airplane very low, making aggressive maneuvers and approaching his ship. Regardless, I leveled out just in time and this shot was the result. Fortunately, no handcuffs resulted.
As Christmas is coming, I thought it appropriate that this month I should share a Christmas tree - Thousand Islands style. In order to win a set of 8 x 10 prints, you'll need to share the best TI Christmas story which it brings to mind. If you can, please also try to identify where this picture was taken. Don't think you don't know it. I'm quite certain most of you are familiar with it.
With Christmas in mind, please don't let it wait too long if you're planning on ordering books or prints to put under the tree. Inevitably, many rush orders come at the last moment, but there's nothing I can do to rush the postal service and cross border mail is slow at the best of times.
Merry Christmas and happy holidays,
Ian Coristine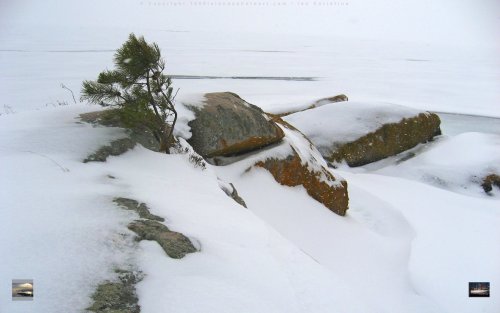 Comments
I'm not sure where this is, it's typical River landscape with the granite rocks and leaning pine trees with branches all on one side. I love the wintertime and especially the snow, I'm looking forward to seeing the frozen River!
Rich Calabrese, Jr posted on: Saturday, January 01, 2011
---
Hi Ian, I believe that is a "jack pine" I am not sure that is the species, you planted on the small island to the west of your island. I don't have any story to tell you, however we did purchase a place on Stave Island, 621 to be exact.
Dave Fownes, Montreal, QC posted on: Saturday, January 01, 2011
---
Hi Ian, I'm sure I don't have the best Christmas story but other island river rats will understand and relate. Last year my father wrapped an envelope addressed to the whole family. It was filled with a bunch of letters to complete a word game to reveal his family gift. The letters spelled "Washer & Dryer." Every woman in the family loved the gift while every man went speechless as we started thinking about just how we would get the washer and dryer across the river to the island. River rats have many different ways to transport furniture and appliances, most of which are good for a kodak moment. Ours was no exception. We decided to balance the appliances on the railing of our pontoon boat during the windiest weekend of the year last spring. Just captaining a pontoon boat in such wind was a task, let alone taking on water while balancing an overloaded and undeserving little pontoon boat. You might think that after we safely reached the island the story would end, but no, my dad insisted that they would be installed on the second floor. Okay, fine! You should know the upstairs is only accessible using a spiral starcase that's 36 inches in DIAMETER. At this point we decided to construct a make-shift scaffold to support one appliance plus two men, in an effort to hoist them over the railing and into the loft. This procedure took six men; two in the loft awaiting the hand-off, two lifting the appliance onto the scaffold and then climbing on, while two tried to keep the teetering scaffold upright. To our own surprise it was a success with no damage or trips to the emergency room. As I dreaded the work required it turned out to be a weekend we won't soon forget and a real family memory. Sometimes the best Christmas gifts are those that create the stories we tell around the camp fire all summer long. Thanks for the pictures that get us river rats through the winter.
Cary Childs posted on: Saturday, January 01, 2011
---
Ian, thanks for the new book. Appropriately my girlfriend gave it to me aboard Ile de Soleil at Mermaid Island at the start of our summer holiday. We had a great summer aboard her, and finally made it down to your part of the river. It was quite blowy as we turned the corner into the small bay across from Raleigh. We took to the dinghy for our first voyage up Jones Creek, which was really exceptional. We have bought several of the books including two that were autographed at the Kingston Frameworks shop. I also got that beautiful print of the Faire Jeanne sliding through the Lost Channel, one of my favourites. Unfortunately every time we see or hear of a book signing I happen to be out of town working. I was just in San Juan last week and there was a Hobie 16 regatta at our hotel. I went down to the beach to see if any islanders were there and met a great guy I hadn't seen in a long time that I had partied with and sailed against at CORK on his old C&C 35 Roxy. He now has an F3 he keeps in Clayton, so we will meet up this summer. Anyway thanks for the great book and your continuing winter emails and look forward to meeting you sometime in the future. Merry Christmas, Bob Clark, Kingston
posted on: Saturday, January 01, 2011
---
OK. Ian, I have to admit I cheated this time as I had some help to identify the spot. I peek at this little tree most days when I am working on putting together our TI LIfe e-zine. And why...? because I know you have a great webcam on your island and it looks out at the River. And in the direct view of the camera is a tiny island with a small (not tiny) tree, which looks like a real pitch pine. When I "pine" for the River, I just hit my 1000islandsphotoart.com bookmark and it takes me right to the webcam. Today it reads: 3°C, Feels like 1°C, Mostly Cloudy Day, 2:55 PM EST. UV Index: 0 - Low, Dew Point: -3°C, Humidity: 64%, Visibility: 16.1 km, Pressure: 1017.3 mb and falling, Daylight: 7:39 AM - 4:32 PM, Wind: SE at 10 km/h 140°. Thanks for the wallpaper, thanks for the webcam and most of all thanks for 1000islandsphotoart.com. Susie
posted on: Saturday, January 01, 2011
---